New Study Confirms: Brochures Are the #1 Influencer of Tourists & Visitors While In-Market
Press Release
•
updated: Jan 22, 2019
Going paperless could be bad for tourism.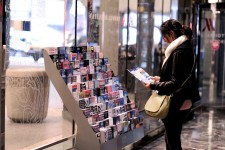 STAMFORD, Conn., January 22, 2019 (Newswire.com) - It's safe to say, in this day and age, most travelers begin their pre-trip destination planning online. But once they arrive in-destination, how will they figure out what to do for fun? Where to eat? What local attractions there are to visit and explore? Chances are they'll reach for a printed brochure in the hotel lobby or visitor's center, according to the findings from a recent survey conducted by Bentley University's Center for Marketing Technology (CMT) and commissioned by Visitor International, the International Association of Visitor Information Providers.
"The decline of print advertising predicted by marketers was overhyped," says CMT Director Ian Cross. "Even in this digital age, people still value tangible 'in-the-moment' printed materials like brochures, maps and travel guides. They are still very relevant to tourists and visitors."
The findings below were the result of the 2018 Brochure Distribution survey, conducted by graduate students and faculty advisors at Bentley University's CMT, which included 2,020 respondents from 17 cities in North America and Western Europe.
On average, 79% of visitors picked up a brochure (up from 67% in 2016)
After searching the web, printed brochures are the next most popular source of information for trip planners with a usage rate of 52%
85% of visitors became aware of an attraction or business as a result of picking up a brochure
61% of visitors planned to purchase tickets or merchandise they learned about from a brochure
73% of visitors would consider altering their plans because of a brochure
Cross is quick to point out the connection between print and digital options, particularly based on survey findings that the internet is still the most popular resource used to help plan a visit and that the mobile web and apps are often used to book activities.
"This suggests that trip planners are influenced by omni-channel marketing approaches combining print, web and mobile content more than traditional media," Cross says.
"It also suggests that brochures drive awareness and action is taken because of integration with the mobile web and apps. Attractions should strongly consider an integrated print, app and digital (web, social and search) marketing strategy to drive awareness and customer interaction, particularly with the under-35 audience."
CTM Media Group, one of the largest distributors of visitor and tourism information in North America, couldn't agree more with the latest survey results from Bentley University. "The survey results fully support what we know to be true based on the overwhelmingly positive results our clients see on a daily basis through our in-market visitor information services," says Peter Magaro, president at CTM. "Brochures, maps and guides are so valuable to visitors and tourists. Of course, you can look up attractions on your phone or mobile device. But how would you know to search for a certain attraction if you don't even know it exists? Printed visitor information provides attractions and restaurants the ability to get in front of the visitor at the exact moment they are deciding what to do next."
The full 2018 Bentley University Brochure Distribution Survey is available here.
Source: CTM Media Group