New Startup, Requiren.com, Gives Artists an Amazing Way to Earn a Living Through Covid
Press Release
•
updated: Nov 9, 2020
The online platform connects a community of 300+ professional artists with consumers who can request & order custom, hand-drawn portrait paintings.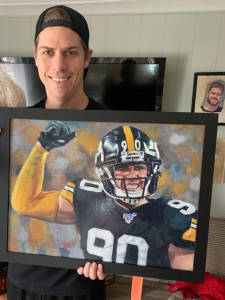 PHOENIX, November 9, 2020 (Newswire.com) - Requiren.com announces the launch of its new platform after a successful beta phase, which included several celebrity endorsements. Requiren is an online platform where customers can request & order custom-made paintings from a real artist. Customers can submit a photograph of themselves, a loved one, a pet, or anything else, and select a professional artist to turn it into a painting and ship it to them.
In a world of cold, automated, and mass-produced goods, Requiren aims to "revive the human touch" by becoming the place to get a truly unique item made by a real person, for a real person.
Throughout the past months, the startup has been preparing for a surge of orders for the upcoming holiday season, where consumers are typically in search for unique & special gifts, and have nearly doubled its database of artists to fulfill commission requests from customers around the world. With the pandemic creating separations of loved ones, more people are looking for ways to stay in touch in a meaningful way.
Founder of Requiren.com, Rei Llazani, says "It has been great to provide a platform to such an amazing community of artists, allowing them to get connected with clients from all over the world, especially at a time where artists' livelihood has diminished due to Covid. Many custom art requests that our artists receive usually carry sentimental value, such as getting a portrait painted of a late family member, a new puppy, an important location such as a childhood home, significant item, and so on. It makes us feel good to make such an impact, because not only are we providing artists an extra revenue stream, but we're also giving thoughtful consumers a way to get a personalized, meaningful, and hand-drawn experience throughout someone's artwork."
Although a startup, Requiren's community of independent artists has gone viral, amassing over 1,000,000 views through TikTok, YouTube, and Instagram. Requiren brands itself as the premier place to request & order custom paintings, and is soon expanding to additional categories, such as the ability to request & order a custom-made marble sculpture from a professional sculptor, and more.
Source: Requiren.com
Tags
Additional Links