New Software Platform GoEnnounce Has Expanded Into 20 States, Educating Middle and High School Students in the Proper Use of Social Media
Press Release
-
updated: Mar 14, 2017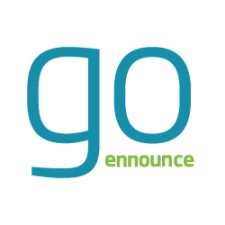 Naples, FL, March 14, 2017 (Newswire.com) - GoEnnounce, the new social platform where students build e-portfolios highlighting achievements, has expanded into 20 states nationwide. Since it's launch to schools in July 2016, GoEnnounce's popularity is spreading quickly, in part, because of its social media training curriculum used by educators to implement the course.
As social media use continues to rise amongst teens and pre-teens, kids post things on the internet and may not realize that it can stay there permanently, sometimes having a very negative effect. BBC reports how 78% of children under 13 are already using at least 1 social media channel despite being under the legal age. 1 The earlier kids are trained in appropriate, responsible behavior regarding technology use, the better.
GoEnnounce empowers students with a safe, social media solution that allows them to also build their personal brand. Kevin Honeycutt, an International Keynote Speaker and Technology Integration Specialist describes how, "Now every kid must learn to be a brand unto themselves. GoEnnounce builds the life skills for students to market themselves, while competing with the rest of the world."
In 2015, 40% of college admission officers visited applicants' social media pages to learn more about them. 16% of admissions officers found something that negatively impacted an applicant's chances of getting in. 2 When trying to get a job, social profiles are even more important.  92% of employers admit to using social media for recruiting, 3 out of 4 hiring managers check social profiles even when not provided by a candidate and say that 1 in 3 candidates are rejected because of something found on a social profile. 3
As students share achievements in their own voice, GoEnnounce imparts important digital literacy lessons on how powerful digital communication across social media channels can be. The platform also fulfills districts' accountability needs to record graduation requirements, as a student-centric e-portfolio that allows students to track their unique participation in activities such as community service, clubs & athletics. 
Michael King, Principal of Dodge City Middle School in Kansas and NASSP 2012 National Digital Principal of the Year describes how he chose GoEnnounce to fulfill Kansas' state mandate for portfolios.  "We recently incorporated GoEnnounce into our individual plan of study as an e-portfolio in student led conferencing. Student reflection is more powerful than data collection.  Administrators must look at students as individuals, not fixed data points. GoEnnounce is a student-centered approach.  GoEnnounce as an e-portfolio will support our students in preparing for a better and brighter future while experiencing ways to promote individual aspirations and practicing appropriate digital citizenship."  
A Digital Arts Teacher in Tennessee, Tim Wood, brought in GoEnnounce to Columbia Central High School after learning about it at a Career-Technical seminar in the summer of 2016.  "The portfolios fulfill a state curriculum requirement and give the students a fun way to showcase themselves and their accomplishments," Wood said.  He describes the web portfolios as having an interface and profile like Facebook or LinkedIn, but operating much differently and being very safe and secure.
Craig Badura, a K-12 Integration Specialist at Aurora School District in Nebraska, praises the curriculum for making Digital Citizenship lessons interactive & applicable. "The teachers are now trying to modify the schedule to give us more time," Badura says. "The lessons are that engaging."
GoEnnounce began to fulfill a need for schools to offer this type of software service to students. Software Industry veteran Arthur Allen, CEO of ALA Services Technology Companies made a significant investment in GoEnnounce in July of 2016. This has fueled the company's growth by increasing the sales and marketing reach nationally and recently internationally. "I saw immediate potential for GoEnnounce to fulfill a need that is not being met in the market currently. It's a wonderful tool for educating kids in the safe use of social media, while showcasing their accomplishments to potential colleges and employers." – Arthur Allen, CEO, ALA Services Technology Companies.
About GoEnnounce: GoEnnounce is a student-centric, social media based, e-portfolio for middle & high school students. The portfolio solution fulfills districts' accountability needs to track graduation requirements, while empowering students to build their personal brand as they track & share unique participation in activities such as community service, clubs & athletics. GoEnnounce is implemented in middle schools & high schools via a digital citizenship curriculum where students practice lessons on safe and positive internet use. The courses offered cover everything from digital literacy to digital copyright to commerce and cyberbullying. GoEnnounce addresses social media issues in schools by changing the conversation to encourage positive social media behavior.  
To learn more visit: www.goennounce.com
Media Contact:
Meghan Davis​
​Phone:239.228.4559
Email: Meghan@goennounce.com​
 
Source: GoEnnounce
Share:
---
Categories: Educational Technology, K through 12, Curriculum and Course Materials
Tags: College and Career Readiness, Cyber Bullying, Digital Citizenship, Digital Portfolio, Internet Safety, Social Media Education
---