New Social Media App, MappTrek, to Enhance Life Experience
"Experience, Share, Live"
Press Release
-
updated: Oct 1, 2018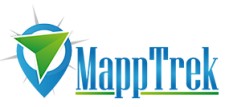 HAMPTON ROADS, VA., June 14, 2018 (Newswire.com) - HAMPTON ROADS, VA. October 1, 2018, MappTrek, a cutting edge new social media app, has shifted the focus from traditional linear feeds of posted content, to that of spatial life experience. Co-Founder Travis Thompson stated, "I wanted to create a platform that could enable users to store their memories and also make better ones." MappTrek uses proprietary geofilter technology, allowing the user to set geofences at fun spots and upcoming events.  They can share these memories, take photos and store them on an interactive journey Map, highlighting the users life experience, also authenticating it. Users must be present in the selected filter in order to take relevant photos or be added to the guest list.
Users can also plan future events and share them on the explore window, an interactive map that allows users to explore their surroundings, finding fun local hangouts and events that spike their interest. The beauty of the technology is that the memories are automatically recorded in a "spatial timeline." When the user enters the events radius they will be prompted to "begin." Upon acceptance, they will be added to the events guest list and while attending will be aggregated with other MappTrek Users at the same venue. The MappTrek team is trying to take a bite out of depression by engaging the users to experience real life and generating incentive to do so. Earning points and showcasing achievements is just the beginning, as there are huge plans for the upcoming releases.
MappTrek has huge implications for vendors and everyday people looking for new experiences and far ranging applications, from wedding planning and concerts, to a college fraternity blasting an impromptu party.
Real world Experience is on trend, especially among younger populations, as depression and anxiety rates continue to skyrocket and researchers are blaming traditional social media. MappTrek is a breath of fresh air as it brings people together and bridges the gap between social media and the real world. 
MappTrek on iOS, coming to Android soon. "Unlock Your Legend."
Media Contact:
Travis Thompson
757-556-9662
Info@mapptrek.com
Source: MappTrek
Share:
---
Categories: Social Media, Entertainment
Tags: experience, games, geofilter, hiking, life, night life, skateboarding, social media, sports, technology
---