New Selfie-App Helps to Prevent Skin Cancer
Press Release
•
updated: May 30, 2017
The Sunface App photoages the users skin based on skin type and individual UV-protection behavior.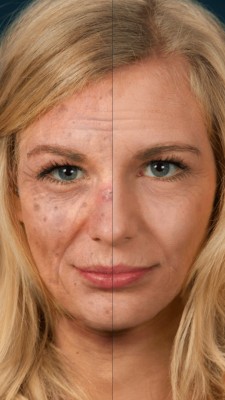 Essen, Germany, May 30, 2017 (Newswire.com) - Malignant melanoma and sunbed use are on the rise globally. Faced with many young patients with metastasized melanoma during his daily work, Titus J. Brinker, MD, a Dermatologist from Essen University Hospital in Germany, came up with a new App that was released today and aims at preventing sunbed use and sunburns especially in young target groups:
The Sunface App lets the user take a selfie and then offers three categories "daily sun protection", "no sun protection" and "weekly sunbed" looking 5-25 years at ones own future face. All effects are based on the individual skin type the user can choose at the start of the app. It also shows the most common UV-induced skin cancers via extra buttons and calculates how the risk is increased with different behaviors. In addition, the app gives advice on sun protection, explains the facial changes and how to detect skin cancer on your own skin. The app was released this week for iPhones (https://itunes.apple.com/de/app/sunface/id1226606410?mt=8) and Android Smartphones (https://play.google.com/store/apps/details?id=com.agt.sunface).
"Research shows that the main motivation for the use of sunbeds is the strong belief that tanning makes you attractive. The opposite is the case. Adequate sun protection and staying away from sunbeds does both: Preventing skin aging and malignant melanoma. ", says Dr. Brinker.
The Department Head, Prof. Dr. Dirk Schadendorf, MD, a world-renowned scientist in the field of melanoma research supported Dr. Brinker's efforts: "The Sunface App has the potential to become an important part of international prevention strategies as it reaches specifically young risk groups."
Press Contact: titus.brinker@uk-essen.de; +4915175084347
Source: Department of Dermatology, Essen University Hospital, Germany
Related Media