New Self-Service Tap Trailer Introduces Customer Independence for Mobile Beverages
Press Release
•
May 23, 2023
Cartsyde partners with PourMyBeer to mobilize self-pour technology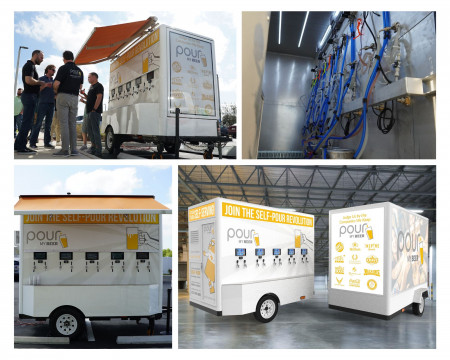 GRAND RAPIDS, Mich., May 23, 2023 (Newswire.com) - Cartsyde, a leader and innovator in trailered kitchens, bars, and mobile draft systems, is excited to announce they are launching a new product in partnership with PourMyBeer, the leader in self-pour beverage technology. Tap Trailer, a brand-new, 10-tap mobile draft system and walk-in cooler, allows for staffing flexibility, higher margins, and customer autonomy as self-pour beverages become increasingly popular worldwide.
Cartsyde's reputation for crafting exceptional food and beverage systems is further enhanced by its striking designs, which include 360 degrees of advertising through large, illuminated panels. These world-class, custom-branded units can be utilized indoors or outdoors, creating unique consumer experiences for events and outdoor social zones. Cartsyde has already partnered with industry giants such as Dunkin' Donuts and Wendy's, helping to elevate their brands and expand their reach into new communities. The stunning appearance and innovative advertising capabilities of Cartsyde's systems make them the ideal choice for any business looking to create a lasting impression.
Cartsyde's innovative approach to mobile beverage service is reaching new heights through its latest partnership with PourMyBeer. With a strong focus on research and development, Cartsyde has created a mobile draft system that is both durable and roadworthy, capable of maintaining ideal temperatures even in extreme heat. This revolutionary partnership will equip Cartsyde's carts with PourMyBeer's self-pour technology, streamlining operations and minimizing the need for staffing. By giving customers the freedom to pour their own drinks, Tap Trailer will drive revenue growth and enhance the customer experience with minimal effort.
This marks the latest innovation for mobile food and beverage solutions from the team at Cartsyde. Check out unique opportunities for your brand on Cartsyde's product overview page, or get a preview in this short video tap-trailer video.
Cartsyde is your partner for mobile food and beverage solutions. With a commitment to innovation, engineering, and the food and beverage industry, our high-tech, mobile food and drink solutions provide a modern-day approach to extending the brand reach and elevating brand presence. From large restaurant chains to popular local bars, or even mall businesses, Cartsyde Solutions provide the freedom to serve food and drinks to customers in unique and innovative spaces. For more info, visit https://cartsyde.com.
Source: Cartsyde