New Report Shows Warehouses Expect a Return to Normalcy After Challenging Year
Press Release
•
Apr 11, 2023
Instawork conducts survey that analyzes how light industrial businesses experience optimistic outlook, in part due to flexible staffing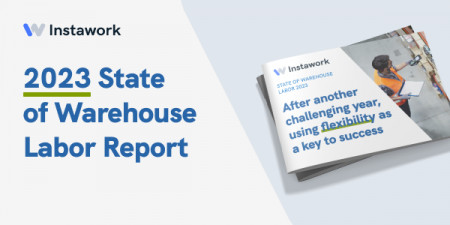 SAN FRANCISCO, April 11, 2023 (Newswire.com) - Instawork, the leading flexible work platform that connects local workers with thousands of businesses, today releases its annual State of Warehouse Labor report. This report sheds light on how businesses performed over the last year and what challenges they anticipate facing throughout 2023. The report's release comes following years of labor shortages in the warehouse industry.
For the State of Warehouse Labor report, Instawork partnered with Logistics Management in January 2023 to survey more than 400 light industrial business leaders responsible for hiring, interviewing or sourcing full-time or part-time labor for materials handling, distribution and/or fulfillment.
The report's key findings found that in 2023:
64% of respondents said they had to forgo business worth more than 25% of their revenue in 2022 because of staffing issues
49% said their businesses offered flexible schedules to attract or retain staff
53% said that flexible schedules were among the most effective tactics for retaining employees, up from 44% in last year's survey
69% said they used temporary or flexible workers in 2022, up from 57% in 2021
65% said flexible workers performed as well as or better than they did in 2021
To view the entire report, please visit https://info.instawork.com/state-of-warehouse-labor.
Over one-third of respondents reported their businesses raised pay last year, with 37% raising compensation by at least $1 per hour. However, when comparing this year's survey data to Instawork's 2022 report, fewer business leaders now believe that increasing wages will improve employee retention. An increasing number of them see offering flexible schedules as an effective tool for closing their staffing gaps. As a result, the report found that flexible work apps and online platform use doubled since 2021.
"More businesses are using flexible workers to fill shifts as staffing continues to be a challenge," said Daniel Altman, Chief Economist at Instawork. "The good news is that the improving performance of flexible workers is leading to higher rates of satisfaction."
The report concluded that light industrial businesses are expecting a return to normalcy and feel overall more prepared to handle what comes their way in 2023, following staffing challenges and fluctuating demand that plagued them amid the COVID-19 pandemic. Thirty-four percent of respondents reported that they had to forgo business due to a lack of available labor in 2022. In terms of passing up revenue, 64% shared they had to forgo revenue that amounted to more than a quarter of their total business. Both figures were an increase from 2021.
The Instawork Economic Research Division analyzes and offers insights into labor trends, particularly within the hourly workforce. The team's findings have been featured by CBS News, CNN International, The Wall Street Journal, Entrepreneur, Associated Press, and more.
Instawork was recently ranked as one of the country's top 10% of fastest-growing private companies by Inc. 5000 and was included in the 2022 Forbes Next Billion Dollar Startup list. The platform received the 2022 ACE Award recipient for "Best Innovation" and was named one of the "Best Business Apps" by Business Insider.
About Instawork
Founded in 2016, Instawork is the leading flexible work app for local, hourly professionals. Its digital marketplace connects thousands of businesses and more than four million workers, filling a critical role in local economies. Instawork helps businesses in the food & beverage, hospitality, and warehouse/logistics industries fill temporary and permanent job opportunities in more than 30 markets across the U.S. and Canada. Follow us on Twitter, Instagram, LinkedIn, and Facebook.
Source: Instawork