New Range of Services on Business to Business Research From an Expert Hands
Press Release
•
updated: Sep 18, 2018
Pie Multilingual is offering comprehensive market research outsourcing services to fulfill their Client's requirements for an up-to-date and relevant market research. visit:- https://www.piemultilingual.com/outsource-market-research-services/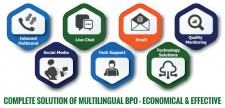 NEW YORK, September 18, 2018 (Newswire.com) - Pie Multilingual, a leading Multi-country Market Research Company has announced its offer of comprehensive market research outsourcing services. Now clients can fulfill all their requirements for an up-to-date and relevant market research by partnering with Pie Multilingual.
A well researched and planned out analysis report of the market and industry is a prerequisite for the success of any business activity and with Pie providing this information under its wide umbrella of market research services, the client need not go any further. Their service basket includes the following market research services:
· Market Survey
· Customized Research
· Outsource Business Research
· Social Media Analysis
· Business Analytics
· Digital Anti Piracy Research
· Secondary Research
· Multilingual CATI Solution
In view of the increased global competition and the rapidly growing economies, it is a must for every business to be abreast of the latest developments taking place locally and internationally, in the industry and markets to which they belong. Comprehensive knowledge is the key to knowing your customer better and also understanding the supply and demand conditions existing in the market. This gives the required edge to businesses to combat their competitors effectively and reach the top position.
In keeping with these requirements, Pie Multilingual has provided all the market research services under one roof making it a one-stop solution to all their client's needs in this regard. Pie Multilingual has an expert team of qualified people who come from diverse backgrounds and effectively execute the market research requirements to provide sustainable results. Their bespoke solutions will prove satisfactory to every client, irrespective of whether he is entering the market or just wants to keep abreast of the latest developments. The team's skill in conducting on-demand surveys, competitive analysis, making detailed market research reports and collecting multilingual data is second to none. However, the greatest advantage of all is that Pie Multilingual offers multi-country data collection during the process of market research activity in the language preferred by the customer. In fact, offering the multilingual advantage is the focus of all their activities.
To know more about the market research services offered by Pie Multilingual please visit the link…
Pie Multilingual is a leading Market research outsourcing company providing 360* business intelligence solution on required industries. By having worldwide expert we are committed to provide result oriented research solution to match your business needs. By adopting multiple research methods we understand your market products better to provide you with a better marketing plan. Our unique research methodology brings effective results possible.
Source: Pie Multilingual