New Public-Private Partnership Supported by Safe Surgery 2020 and GE Foundation to Transform Surgical Care Across Sub-Saharan Africa
Safe Surgery 2020, GE Foundation, COSECSA, and RCSI announce a new partnership to train surgical teams across 12 African countries.
Press Release
-
updated: Sep 19, 2018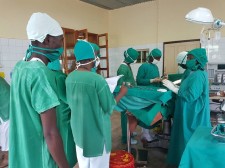 NEW YORK, September 19, 2018 (Newswire.com) - Only one out of every 20 people in sub-Saharan Africa can access surgical care, meaning almost one billion people are unable to have surgery if they need it. Limited surgical capacity leads to millions of preventable deaths and disabilities every year across the continent. To transform surgical care in Sub-Saharan Africa, a new public-private partnership will train surgical teams across 12 countries: Ethiopia, Kenya, Malawi, Mozambique, Rwanda, Burundi, South Sudan, Tanzania, Uganda, Zambia, Namibia and Zimbabwe.
The GE Foundation and Safe Surgery 2020 are partnering with the RCSI/COSECSA Collaboration Programme to improve the quality of surgery available across Africa by expanding a leadership development program for surgeons, anesthetists, obstetrician-gynecologists, and scrub nurses. The new partnership will blend Safe Surgery 2020's proven leadership curriculum which is devised and led by Jhpiego, COSECSA's extensive network and broad reach, and the master trainer curriculum of the RCSI Institute of Leadership to rapidly improve the quality of surgery.
"The surgical leadership development program is so effective because each team member is empowered to act as a change agent, able to devise and implement new solutions to improve patients' care. We are excited to partner with COSECSA and RCSI to expand this program," says Asha Varghese, Global Health Director of the GE Foundation.
Integrating the World Health Organization's safe surgery checklist to ensure high-quality care is provided to all patients, the program takes a "train the trainer" approach where a regional network of master trainers work with in-country trainers who then deliver the curriculum to surgical teams.
This training model is proven to develop surgical team's skills effectively, quickly, and sustainably. For example, over the past three years, Safe Surgery 2020, an innovative partnership supported by the GE Foundation, has worked closely with the governments of Ethiopia and Tanzania to enhance surgical care. The initiative has already trained over 440 surgical leaders and mentors in Ethiopia and Tanzania through their leadership development program, and upskilled an additional 800 surgical workers through specialized training programs to further advance the quality of surgical care available.
Since launching training programs in 2003, COSECSA has scaled up surgical training in the region with COSECSA trainees now accounting for approximately half of all current surgical trainees in the region. COSECSA has played a major role in the in-service professional development of surgeons and other cadres of the surgical team in its region. RCSI has worked with COSECSA, through a partnership that is funded by Irish Aid, providing expertise to design curricula, run exams, develop e-learning systems and set quality benchmarks. 
Professor Russell White, Chairman of the Education, Scientific and Research Committee for COSECSA, explains: "All parties are deeply committed to providing affordable, accessible, safe surgery to the ECSA region as a whole, and even beyond to the entire African continent. COSECSA has become one of the leading groups involved with surgical education in the region, with currently more than 500 young surgeons in training. We are very enthusiastic to be a part of the collaboration between COSECSA, RCSI, GE Foundation and Safe Surgery 2020 to provide life-saving surgical care and education to so many people in the region."
For further information or to speak to a representative, please contact:
Kate Richards, Safe Surgery 2020
About Safe Surgery 2020:
Safe Surgery 2020 brings together innovations, global expertise, and local experience to make surgical care safe and accessible for all. Working across Africa and South Asia, the initiative trains the surgical workforce, supports governments to strengthen national surgical systems, and develops scalable solutions to infrastructure barriers. Safe Surgery 2020 is hosted by Dalberg, implemented by Jhpiego, Harvard's Program in Global Surgery and Social Change, Assist International, and local professional societies and universities, and made possible by the GE Foundation.
About GE Foundation:
GE Foundation, the philanthropic organization of GE, is committed to transforming our communities and shaping the diverse workforce of tomorrow by leveraging the power of GE. GE Foundation is developing skills by bringing innovative learning in community health globally and STEM education, scaling what works, and building sustainable solutions. GE Foundation is inspiring others to act by connecting GE people with communities through matching gifts and United Way, leading on emerging issues such as the opiate crisis, and convening community leaders to maximize our impact. Learn more at www.gefoundation.com or follow us on Twitter at @GE_Foundation.
About COSECSA:
The College of Surgeons of East, Central and Southern Africa (COSECSA) is a non-profit making professional body that fosters postgraduate education in surgery and provides surgical training throughout the East, Central and Southern Africa region. The College delivers a common surgical training programme with a common examination and an internationally recognized surgical qualification in its Membership programme in Basic Surgery and Fellowship Programme in Orthopedics; pediatric orthopedics; ENT; Urology; Pediatric Surgery; Neurosurgery; Cardiothoracic; Plastic Surgery and General Surgery. The college has created a training pathway which harnesses existing, but often underutilized resources (hospitals and surgeons) for surgical training. In addition to advancing education and training, the college is also involved in advancing standards of practice and research in surgical care. The College currently operates 12 countries in the Sub-Saharan region: Burundi, Ethiopia, Kenya, Malawi, Mozambique, Namibia, Sudan, Rwanda, Tanzania, Uganda, Zambia and Zimbabwe. Follow us on Twitter at @cosecsa.
About RCSI:
Since its inception in 1784, the Royal College of Surgeons of Ireland's (RCSI) purpose has been the education and training of surgeons to meet the needs of patients. Today RCSI helps to develop healthcare leaders worldwide. In low- and middle-income countries RCSI achieves this purpose by partnering with local institutions and unlocking local potential at the regional level. The RCSI/COSECSA Collaboration Programme began in 2007 to help train and retain more surgeons in Sub-Saharan Africa. It is funded by the Irish people, through the State's development arm, Irish Aid. Follow us on twitter @RCSI_COSECSA
Source: Safe Surgery 2020
---
Categories: Healthcare and Medical News, Corporate Social Responsibility
Tags: Africa, Ethiopia, GE, Healthcare, Kenya, Mozambique, Public Health, Rwanda, Surgery, Tanzania, Uganda, Zambia
---