New Prop Trading Firm FunderPro Sponsors Ferrari F1 Protégé & Youngest British Formula 2 Driver Ollie Bearman
Press Release
•
Mar 24, 2023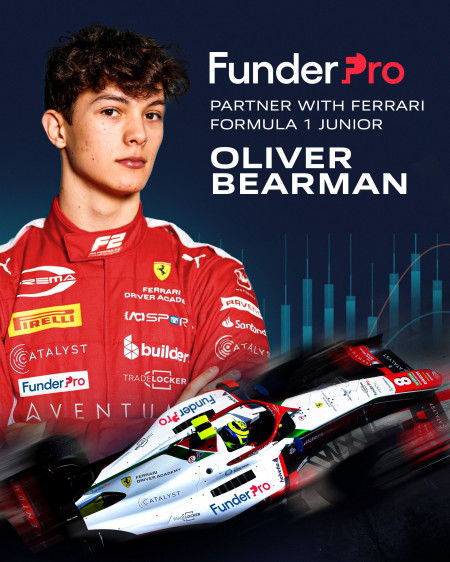 ST. JULIAN'S, Malta, March 24, 2023 (Newswire.com) - FunderPro, a fast-emerging prop trading firm, announces its sponsorship of rising star Oliver Bearman, a young British Ferrari driver, who is a member of the Ferrari F1 Driver Academy, competing with Prema Racing in FIA Formula 2.
Bearman has already made waves in the racing world, having won multiple titles in his career so far, including the 2021 German and Italian FIA Formula 4 Championships. The 17-year-old driver is seen as one of the most promising talents in the sport, and FunderPro has spearheaded a partnership to support him on his journey as he continues to climb the ranks.
"We're delighted to be sponsoring Ollie Bearman and to be supporting such a promising young talent," said Gary Mullen, CEO of FunderPro. "As a new firm in the prop trading industry, we are always looking for innovative ways to connect with our audience, and partnering with a young, dynamic driver like Ollie is the perfect way to do that. His journey aligns with how we invest in the journey of aspiring traders."
The partnership between FunderPro and Ollie Bearman will see the firm's branding feature on Ollie's car and racing suit, as well as throughout his social media channels during the F2 race calendar. FunderPro and Ollie's team will work hand in hand to increase the sponsorship's global reach and communicate the message that success comes from hard work and perseverance.
"I'm delighted to be partnering with FunderPro," said Bearman. "As a young driver, it's really important to surround yourself with people who believe in you and are excited to be part of your journey. I feel really proud of the partnership. FunderPro is a really exciting and innovative company, and I'm looking forward to working with all the guys to make sure the collaboration is a great success."
The company believes that through partnerships like this, it can make a positive impact on the lives of young people, educating them on the global markets and the communities they are part of. "We are beyond proud of FunderPro's sponsorship with Ollie as part of our firm's ongoing commitment to supporting talented individuals, including traders, and helping them reach their full potential. There are many parallels between the emotions a high-performance driver like Ollie would experience and our traders competing in a trading challenge - focus and determination being key for them in reaching the ultimate success," says FunderPro CMO Laoura Salveta.
For more information about FunderPro and its sponsorship of Ollie Bearman, please contact FunderPro CMO Laoura Salveta at Laoura.Salveta@redacreltd.com.
About FunderPro:
FunderPro is a new prop trading firm offering trading challenges with real funded accounts up to USD 200,000. Traders can access different challenges making it the perfect place for both novice and seasoned traders to test their trading skills.
Website: www.funderpro.com
Source: FunderPro