New Program at Blackburn College Welcomes Transfer Students With Free Tuition
Press Release
-
updated: May 24, 2017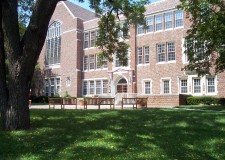 Carlinville, IL, May 24, 2017 (Newswire.com) - Students can now "test-drive" Blackburn College with free tuition and experience the school's unique educational setting.
"We saw this as an opportunity to let transfer students experience the exceptional academic programs Blackburn College provides and how the college is focused on accessible and affordable education," said Blackburn College President John Comerford.
"It is a great way for transfer students to find out, first-hand, how they like the college—without paying any tuition for the fall semester," he continued. "Students can take courses, become familiar with faculty and staff, make friends with other students and enjoy the activities on campus. This is a chance to really see what Blackburn is all about."
Students must be Pell-eligible, from Illinois, participate in the Blackburn College Work Program, and meet normal admission requirements. 
Blackburn College is unique. One of seven work colleges, Blackburn has the only student-managed Work Program in the U.S. The Work Program was started in 1913 as a self-help program for students who couldn't afford college. It also saved the school. At the time, Blackburn faced adversity, and the input of student labor provided a welcome boost in campus improvements and operational efficiencies. Students have continued to work in all areas of the college: operational, administrative, and academic.
"Students literally run the college," noted Comerford. "The entire workforce is managed by students, and student workers have been vital to Blackburn's ability to provide affordable education.  Their accomplishments are impressive—ten of the buildings on campus were even built with student labor!"
The combination of challenging academics and the experience gained from the Work Program also produces results after graduation. Blackburn graduates have a 99% placement rate into graduate school or the workplace, based on a 98.5% response rate to the annual graduate survey.
"We are confident students will like it here once they arrive—so confident we will offer no tuition for their first semester this fall to prove it."
Interested students can find additional information at www.blackburn.edu/testdrive, or by calling 800-233-3550.
Founded in 1837, Blackburn College is a four-year, Presbyterian-related, co-educational liberal arts college located in Carlinville, Illinois. The Washington Monthly ranked the college as the best baccalaureate college in Illinois for 2016 and among the top 50 in the U.S.
Contact:
Peter Oswald
Director of Marketing & Public Relations
peter.oswald@blackburn.edu
(217) 854-5781
Source: Blackburn College
---
Categories: Colleges and Universities, Under Graduate Schools, Education
Tags: college, college affordability, financial aid, higher education, scholarship, transfer student
---