New Pro Movers' Website Open to Customers
Press Release
•
updated: Nov 1, 2019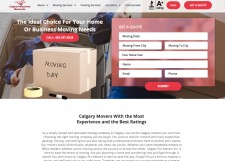 CALGARY, Alberta, November 1, 2019 (Newswire.com) - Calgary Pro Movers is happy to showcase its new website.
Calgary Pro Movers is the leading Calgary moving company. They are professional and dedicated to providing their clients with everything they need. All members of their team are trained to the highest standards and strive every day to ensure total customer satisfaction with their range of moving services. They operate in and around Calgary, including Canmore, Banff, Chestermere, Okotoks and many other areas. They guarantee superior moving services for affordable prices.
Calgary Pro Movers decided a new website was needed to make it easier for customers to reach out to them, as well as understand the brand and the services they offer.
The website, built by GrowME, represents their professional brand and friendly atmosphere. A slicker, more focused website structure was incorporated to make it simple to navigate and to avoid confusion. It made it easier for users to find the moving services offered by Calgary Pro Movers.
Each service features its own page on the site accompanied by an explanation of that service. More so, their service locations are visible, displaying their commitment to helping customers in and around Calgary.
Significantly, contacting Calgary Pro Movers is easier than ever with an online form available on the home page. Customers will be able to obtain a quote with a few clicks and can expect a response in no time.
The site has been given dedicated attention to detail with stylistic changes encompassing the new design. The site has a more colorful tone, greater brightness and depth, and attractive, relevant images. Each page comes together to provide an accurate depiction of the values and processes of Calgary Pro Movers.
Overall, the changes will bring in more sales and provide a better platform for customers to achieve their goals on the site.
Visit the new website: https://www.calgarypromovers.com/ ​
Source: Calgary Pro Movers