New Political Party Launched to Appeal to Disaffected Voters
Press Release
-
updated: Sep 10, 2019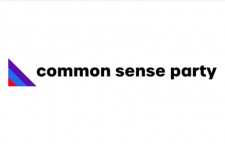 SACRAMENTO, Calif., September 10, 2019 (Newswire.com) - A new political organization launched a website, social media campaign, video and a voter registration drive over Labor Day weekend in an effort to reinvigorate and diversify California's public policy choices. The California Common Sense Party has already registered 10,000 voters since Labor Day weekend.
Common Sense organizers held their first formal meeting in July, during which, Tom Campbell, of Orange County, was elected as Interim Party Chair and Debbie Benrey, of San Diego County, was elected Interim Vice Chair.
Campbell is a former five-term U.S. Congressman, California State Senator and California Director of Finance. He left the Republican Party to become independent (NPP) in 2016.
Campbell emphasized organizers' commitment to a long-term effort. "We invite all interested voters to join us in building a Common Sense Party that is Responsible, Open and Inclusive," he said.
Benrey is a former Press Associate for the Mexican Consulate in Boston, a recently naturalized U.S. Citizen, and a formerly registered NPP voter.
Benrey noted that over 5.6 million, or 28.3% of voters, are now registered as "No Party Preference" voters in California. "NPP voters are the second-largest voting bloc in California, but they have no organization for elections and no presence at all in the state Capitol. Without a vehicle to represent their interests, the quality of our democratic process is compromised."
Over 60% of Californians say they are ready for a new political party, according to a recent survey by the Public Policy Institute of California, and a third of both Democrats and Republicans say their affiliation with their party is "not very strong." The Common Sense Party is open to all voters, both new and currently registered voters who choose to change their current "Party Preference" to Common Sense.  The process for selecting a preferred political party can be found online at the Common Sense Party website.
The new party must register 67,000 Common Sense voters before July 2020 to qualify as a "recognized" political party for the 2020 November General Election. At that point, the party will hold an election of permanent officers and adopt a party platform. Organizers expect their party to embrace California's nonpartisan open primary and provide support to candidates who are socially inclusive and fiscally responsible.
CONTACT
Jeff Powers  (619) 723-3589
jdpowers41@gmail.com​
###
More information can be found at cacommonsense.org or facebook.com/cacommonsense.
Source: The California Common Sense Party
Share:
---
Categories: Politics
Tags: California Common Sense Party, Common Sense Party, Debbie Benrey, NPP voters, Tom Campbell, Voters Rights
---