New Novel Explores the Use of Machine Learning to Track Serial Killers
Press Release
•
updated: Jul 2, 2021
In The Machine Murders, Data Scientists become the Sherlock Holmes of the AI age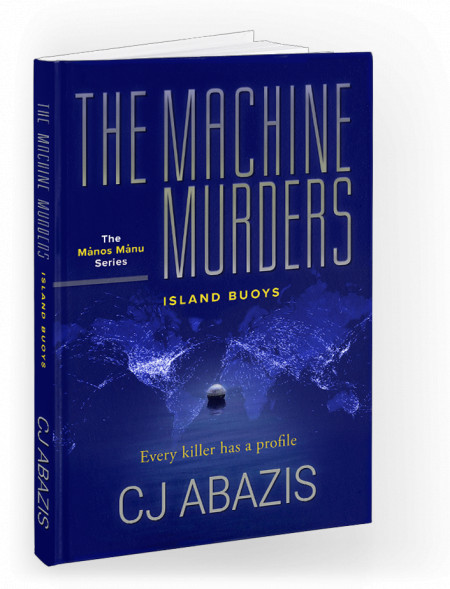 NEW YORK, July 2, 2021 (Newswire.com) - In the new novel The Machine Murders: Island Buoys by CJ Abazis, which is published by software company Publisto Ltd. (Amazon/Audible 2021), Manos Manu goes to the Greek island of Mykonos to attend the wedding of a friend. Here he witnesses the hunt for a serial killer who abducts and kills his victims, passes a chain through their bodies and drops them at sea as buoys with the word "FREE" written on them.
Clues are plentiful: the local police closes in on boat rentals, hotel reservations, DNA samples and last sightings. But the murders, that begin to make the rounds in social media, are just too much for them.
Enter Manu. He is a data scientist who gave up lucrative pay in Silicon Valley because he "wanted to run multiple models on human actors," and only Interpol would allow him to do that with immunity. His problem? The machine learning system he has developed to track killers via their use of online media is untested, the datasets he's after are lacking and an entire wall of suspicion follows whatever he tries to do: his wealthy friends view him with pity for joining law enforcement, the Greek police don't understand a thing about his methods and his bosses in Singapore think he spends too many resources and puts the entire program under the unnecessary scrutiny of the global media.
As the victims multiply, the crisis deepens and the machine learning models of Manu's system uncover correlations impossible to fathom.
Fiction or reality? Although the events described in the book are fictional, similar machine learning technologies are now used by law enforcement agencies around the world tracking calls, clicks, online pauses and suspect behaviors. Adversarial AI and the corresponding police actions to deter cybercrime have just started to provoke worldwide interest. The rules of privacy need to be respected. However, the capacity of Police Authorities to navigate these huge datasets is our only assurance that we will not experience crimes such as the ones described in The Machine Murders. Yet, it will take time for the game to unravel on all sides. Police err to the side of caution, while criminals do not. "As far as we are concerned, these events are unrelated. There are no machine murders. Only machine solutions," says fictional Interpol Unit Leader Dr. Daniel Novak to Manos, at the end of the novel.
About Publisto Ltd.
For the past 12 years, Publisto has published online platforms, educational apps and games producing high-quality online work, from children's storybooks to enterprise platforms and machine learning systems. The Machine Murders series is its first foray in the commercial thriller market.
Media Contact:
Ioli Delivani
delivani@publisto.com
+30 213-003-8247
Source: Publisto Ltd.
Tags
Related Files