New Nonprofit is Providing Free Solar to Underserved Communities Internationally
The Sol Collective is uniting professionals to develop clean energy systems for all
Press Release
-
updated: Jul 24, 2017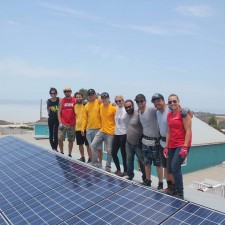 SAN DIEGO, Calif., July 24, 2017 (Newswire.com) - A new international renewable energy nonprofit organization has installed its first donated solar project for a children's orphanage in Tijuana, Mexico. Launched officially this month, The Sol Collective is an organization focused on delivering fully subsidized renewable energy projects to under served regions of the world. The organization is comprised of volunteer sustainability professionals who work hand-in-hand with other nonprofit organizations, community groups and industry partners to find opportunities to install these systems and teach local communities about solar power.
Conceptualized by San Diego renewable energy professional Kevin Mulvey, the organizational model has been correlated with Doctors Without Borders, but on a different mission — a mission for clean energy expansion. The organization's founding group of professionals gained their expertise working for leading California solar integrator, Sullivan Solar Power, and have collaboratively been working for nine months to get the organization off the ground.
"In California, we have had huge strides in adopting solar energy, but there are so many communities in the world that don't have the access to clean energy, or any electricity at all," said Mulvey, president of The Sol Collective. "We want to provide renewable energy systems, accompanied with educational programs and training opportunities, to those who need it the most."
The Solar Collective's commencement installation for the Siempre Para Los Niños orphanage in Mexico provides 70 percent of the facility's energy needs and was done in partnership with Sullivan Solar Power and Angels2Angels, a San Diego-based charitable organization dedicated to transforming orphanages into "Homes of Excellence."
"With the passionate individuals that make up the solar industry, it is clear that there is a huge opportunity for all of us to work together and use our collective knowledge to help provide clean energy to underdeveloped communities around the world," said The Sol Collective vice president, Morgan Chan.
For more information on The Sol Collective, and opportunities to get involved, visit www.thesolcollective.org.
Source: The Sol Collective
Share:
---
Categories: Non Profit, Educational Technology, Energy, Alternative Energy, Charitable Contributions, Education
Tags: charity, education, giving back, Mexico, nonprofit, renewable energy, solar, solar panels, solar power
---