New Mystery Series: A Dark Past and a Dangerous Road to Discovering the Truth
Press Release
•
Oct 2, 2014
Author Bluette Matthey first two books in her new mystery series are available for purchase or free review copies. Dangers unfold in these two novels, "Corsican Justice" and "Abruzzo Intrigue," set in the adventurous European landscape.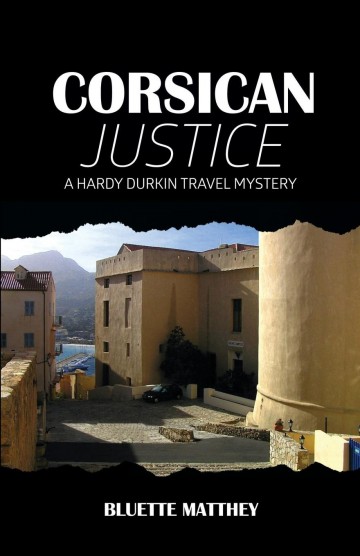 College Station, TX, October 2, 2014 (Newswire.com) - New Mystery Series: A Dark Past and a Dangerous Road to Discovering the Truth
In Bluette Matthey's first novel, Corsican Justice, we are introduced to Hardy Durkin, an American tour outfitter who seems to experience a mystery at every stop.
Exciting and engaging plot, yet still a relaxing read set in small European towns! Must read series!

Madison Parker
Hardy is visiting Corsica for the first time to explore the possibility of arranging a hiking tour for segments of Corsica's infamous hiking trail, the GR20. Seeking closure from his father's deadly highway accident on the island of Corsica several years earlier, Hardy learns his father's death was no accident, but murder. The truth of his father's murder lies among arms smuggling, Russian mobsters and judicial corruption.
Bluette Matthey's second novel, Abruzzo Intrique, embodies mystery, thievery, and spiritual encounters in this entangled plot, all set in the landscape of rural Italy.

Hardy Durkin, an American tour outfitter, leads a hiking tour into Italy's Abruzzo region, where they experience the area's culture, food, and history. There is a good deal of exposure to the region's religious and spiritual past, and one of the tour group members struggles with an odyssey of the soul that ends in redemption. Some of the cast of characters are who they seem to be, but most aren't. A member of the group, a grieving widower, plans to steal one of the Vatican's most precious religious relics, The First Eucharistic Miracle, from the Church of San Francesco in Lanciano. The book is a collision of values and traditions while hiking through the oft-overlooked beauty of ancient Abruzzo.
Bluette Matthey is a third-generation Swiss American, an avid lover of Europe and its cultures, and a keen reader of mysteries. Her love of travel is shared by her husband, who formerly owned a tour outfitter business in Europe. Bluette maintains a mental list of hikes and pilgrimages she still wants to do throughout Europe. She currently lives near Charlotte, North Carolina with her husband, faithful dog, and band of loving cats.
Corsican Justice is available in softcover (ISBN 978-1-941611-00-5) from Virtualbookworm.com, Amazon.com, and Barnesandnoble.com. This book can also be ordered from most bookstores around the United States and United Kingdom. More information can be found at the author's official website, bluettematthey.com.
###
Related Media
Additional Links