New Minimalist Baby Accessories Aim to Please Stylish Parents
Press Release
-
updated: Oct 29, 2019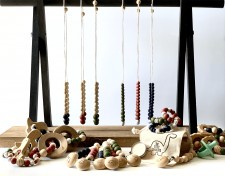 CHARLESTON, S.C., October 29, 2019 (Newswire.com) - Parenting can be difficult. It comes with a lot of sacrifices and personal style tends to be one of the first. But what if it was possible to maintain your style no matter how many meltdowns, messes or mistakes occurred in your day? This is the vision of Katie O'Shea, mother of two and owner-designer of The Little Dinosaur teething toys and accessories. 
Fed up with only finding garish and gaudy baby accessories for her own brood, Katie took the leap and started designing and manufacturing her own line of unique, safe and stylish baby teething accessories for parents and their little ones.
"Being a parent is so consuming. Mentally, physically, emotionally … it's draining. It's so easy to lose yourself in it, to forget that you are you. There is this idea that just because you have kids you can't have nice things. I say, let's play, learn and grow together but let's do it with our own aesthetics," she says.
In a society that makes parents believe their whole world should revolve around their kids, making stylish choices can seem like a kind of rebellion. 
"I believe parenthood can be subtle and stylish and we can put our own desires and needs first from time to time. With my range of products, you don't need to sacrifice your style or your child's safety because you're choosing to buy toys and teethers that are pretty and functional."
The Little Dinosaur Everyday Teething Collection includes teething toys, pacifier clips and teething necklaces, all made out of food-grade silicone beads and untreated wood beads to avoid allergens and give even the most stubborn teethers different options. They're all easy to clean, are third-party tested, and CPSC compliant.
Next month will see the release of Katie's new Minimalist Collection – perfect for the style-conscious parents who enjoy a minimal aesthetic. The new product range features three understated colors - marsala, olive and navy - and includes two eye-catching new necklace designs that no one will believe would be a teething necklace. It also includes three pacifier clips including the Penn Pacifier clip - a shorter version geared for newborns, and two teethers, including the new Gabe teether with a beautiful walnut wood ring, as well as the bestselling hedgehog and dinosaur designs in the new colors.
Parents can also purchase a wood conditioner made with organic beeswax and coconut oil to care for their toys. For those purchasing a gift, they can order a customized gift box with a personal note.
The Little Dinosaur is growing fast, and Katie aims to expand her business soon to include toys and nursery decor. Right now, Little Dinosaur teething accessories can only be purchased online, but they will soon be stocked in selected retail stores. You can find both the Everyday range and the new Minimalist range at TheLittleDinosaurUS.com.​
Source: The Little Dinosaur
Share:
---
Categories: Parenting
Tags: baby, gifts, minimalist, new, new parents, parenting, safe, teethers, toys
---