Scientology News Reports New Mexico State Representative's Successful Fight to Protect Children
A new video published February 20 tells the story of New Mexico State Representative Nora Espinoza, whose landmark legislation protects children from being forced to take dangerous psychiatric medication.
Press Release
-
Feb 22, 2016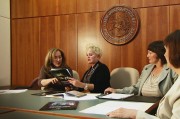 Santa Fe, New Mexico , February 22, 2016 (Newswire.com) - ​As a committed voice for children who have been forced to take dangerous psychotropic drugs, New Mexico Representative Nora Espinoza has led the legislative crusade to save the most vulnerable from the compulsory ingestion of substances that even parents were unable to prevent.
When she discovered to her shock that New Mexico Child Protective Services (CPS) had the authority to literally remove children from their homes if their parents refused to administer these substances, Rep. Espinoza was incensed. (In the United States alone, 8.4 million children are prescribed these drugs, more than a million of them an astonishing 5 years of age or younger.)
"We're seeing right now in our nation that 9 out of 10 children who go to see a psychiatrist leave there with medication," says Espinoza. "And if we're overmedicating them, they will not be able to function normally as adults. This, to me, is heart wrenching, because we're destroying our children."
Espinoza learned about this urgent crisis from Citizens Commission on Human Rights (CCHR), which met with the Representative and furnished her documentation that clearly outlined the effects of these harmful drugs.
There have been 44 warnings from eight countries that ADHD drugs have harmful side effects that include heart problems, mania/psychosis, depression, violence, suicide risk/attempts, addiction and even death. Studies in 2009 and 2014 found use of ADHD drugs by children was linked to sudden death as well as adverse cardiac effects.
"Just because children have a lot of energy, that doesn't mean that something is wrong with them," Espinoza states. "The psychiatrists have embraced the easy way out in giving them medication."
Working in tandem with CCHR throughout the legislative process, Espinoza was provided the necessary data to craft a law that would protect children in schools and prevent the forced ingestion of psychotropics.
The result was the landmark House Bill 53, signed into law in New Mexico in April 2015 and mandating that a parent's decision not to administer psychotropic drugs to a child is not grounds for that child being removed from parental custody.
The bill also restricts school personnel from taking any action against the parent or requiring any student to take a psychotropic drug. And it states that parents must give written consent prior to any psychological screening.
In short, the bill protects parents as well as children, putting mothers and fathers in the state back in charge of the health needs of their school-aged kids.
"We drafted it and we worked together with it to make sure that it was an excellent legislation," Espinoza says with pride. "We passed it through the House, through the Senate, and today it has passed and become law."
According to CCHR, New Mexico is the latest in a growing list of states that now have passed legislation addressing parental rights as they pertain to the refusal of psychiatric drugs—preventing Child Protective Services from removing children from their parents' care based solely on a parent's refusal to administer psychiatric drugs to a child or submit their child to mental health screening. The state also joined Utah, New Hampshire and Arizona in enacting legislation that specifically prohibits the removal of children from the home by CPS for so-called "medical neglect" if parents refuse to give their children psychiatric drugs.
The result of the New Mexico bill is that schools no longer can decree that every active child must have their natural personality altered with dangerous drugs—for which Espinoza is relieved and grateful, well understanding that children are our future.
"The Church of Scientology has been at the forefront, taking action on this issue that is very important on both the local level and national levels," she says. "What CCHR is doing is helping to inform and change this culture."
Source: Scientology News
Share:
---
Categories: Healthcare, Psychiatry and Psychology, Child Abuse
Tags: drugging of children, Human Rights, overmedicating
---