New Medal From Canada Unites U.S. and Royal Canadian Mint Legends for First Time... a GovMint.com and ModernCoinMart Exclusive
Mercanti and Taylor Team Up for 2019 Peace & Liberty Proofs
Press Release
-
updated: Dec 3, 2018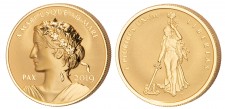 BURNSVILLE, Minn., December 3, 2018 (Newswire.com) - John Mercanti, 12th Chief Engraver of the U.S. Mint, is a modern numismatic legend known for his designs, including the American Eagle Silver Dollar reverse 3/4 and for designing more coins and medals than any other designer in U.S. Mint history.
Susan Taylor, retired Royal Canadian Mint Senior Engraver, is the winner of the 2016 American Medal of the Year Award, and the designer of the International Art Medal Federation 2018 Congress Medal.
This marks the first time ever that John Mercanti has worked with another North American mint.
Released by the Royal Canadian Mint and available exclusively through GovMint.com and ModernCoinMart, the 2019 Peace & Liberty medal honors the sacrifices made by veterans of both nations, and the principles for which they fight. Inspiration for this medal comes from Canada's National War Memorial in Ottawa, Ontario, Canada, which displays female personifications of Peace and Liberty atop an arch, with 22 World War I soldiers below.
John Mercanti's obverse presents a full-bodied image of Liberty, accented by a frosted field and a variety of mirrored and lightly frosted accents for dramatic contrast.
"In this design, Liberty has been depicted as moving forward toward the future," says Mercanti. "The sword in her right hand holds at bay two vipers that represent evil in this world. In her left hand, she holds up the torch of Liberty, wrapped in laurel symbolizing the victory over oppression."
Susan Taylor's reverse takes the form of a left-facing bust, with the female personification of Peace wearing maple leaves in her hair. Again, the design features a frosted field and a variety of both lightly frosted and mirrored devices.
"The inspiration originated from the Greek word 'demokratia,'" says Taylor. "Her hair is crowned with a wreath of maple leaves and olive branches that symbolizes the core values of peace, order and good government that have come to inherently represent the Canadian identity."
The historic 2019 Peace & Liberty Proof marks the start of an all-new series for the Royal Canadian Mint. Minted in Ultra High Relief condition, which allows the medal's devices to sit high over its fields, the Peace & Liberty Proof is available struck in one ounce of 99.999% pure gold as well as one or ten ounces of 99.99% fine silver. Mintages are limited to 200, 3,000 and 500 pieces, respectively.
MEDIA CONTACT:
Steve Wolff
Phone: 952-707-7120
Email: media@amsi-corp.com
Source: GovMint.com
Share:
---
Categories: Currency, Business Finance
Tags: Asset Marketing, Gold, GovMint, GovMint.com, john mercanti, ModernCoinMart, Peace & Liberty medal, Proof coins, Royal Canadian Mint, silver, Susan Taylor, U.S. Mint
---