New LunchEAZE Lite: An Essential Lunch Box for COVID-19
Press Release
•
updated: Nov 2, 2020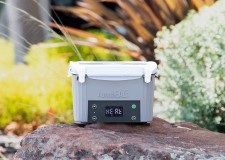 FREMONT, Calif., November 2, 2020 (Newswire.com) - From the makers of the world's first cordless heated lunch box, LunchEAZE Lite is now available for essential workers and students resuming in-person learning across the country. LunchEAZE Lite is a brand-new, more affordable edition of the original LunchEAZE, a smart lunch box that automatically heats food at the user's designated mealtime. These battery-powered lunch boxes are the only heated lunch boxes that are completely cordless.
Cordless heating may be the answer for contact-less eating during the pandemic as businesses and infrastructures reopen across the country. Cafeterias and break room microwaves remain off-limits as cross-contamination continues to be at the top of people's worries. LunchEAZE and LunchEAZE Lite can solve those problems by allowing people to have better food options while at work, at school, and more, without needing access to microwaves, electricity, or having to go near others to get hot meals.
In a quest to make safer and healthier food options more economically accessible for the masses, especially essential workers and students going back to in-person learning, LunchEAZE successfully cut costs for the new Lite edition by creating a simpler design that still satisfies people's basic needs.
"Our original goal was to improve people's lives. Due to the pandemic, better food options and food safety are now more imperative than ever. If we couldn't get LunchEAZE to the very people who needed it most, something had to be done. By cutting costs with a simpler design while keeping the core features of the original LunchEAZE model, we hope that hot lunches are accessible for all," said Uzair Mohammad, senior product engineer at LunchEAZE.
LunchEAZE and LunchEAZE Lite are ReliantEMS Corp products. LunchEAZE is the world's first cordless, automatic, heated lunch box made by ReliantEMS Corp, a 12-year-old engineering and manufacturing company that seeks to improve the quality of everyday life with high-tech consumer products. After a highly successful round of crowd-funding on Kickstarter in 2019, LunchEAZE is now shipping worldwide directly from headquarters in Fremont, California through Luncheaze.com. ReliantEMS Corp's dedicated team will continue prototyping and innovating new consumer products in the coming years, focusing on improving people's health, wellness, and productivity.
Source: LunchEAZE
Additional Links