New Line of Cat Eye Sunglasses Set to Launch by Designer Kate Langston: CatMoon
Press Release
-
updated: Dec 6, 2017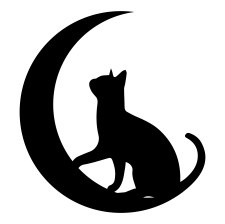 LOS ANGELES, December 6, 2017 (Newswire.com) - Amidst the growing presence of underground and upstart fashion designers in the accessories market, sunglasses have regained their composure and recovered from the overflow of knockoffs and poor quality flooding the market. New Zealand-born designer and fashion fanatic Kate "Kat" Langston, is now set to launch her long-awaited line of Cat Eye Sunglasses, an inspired collection of fashion eyewear for the masses. An impressive collection of iconic and timeless designs that are reminiscent of a time when style was key and brands were the afterthought.
Rumor has it that Trio Trading has earned the contract to handle the manufacturing and distribution for her new line set to be unveiled in February 2018 with a soft launch at the Las Vegas Magic Show. Trio Trading has an already-established history of great success with NEM Fashion and their line of high-end fashion sunnies. Working with television and movie star Natalie Eva Marie, they have forged together a line of sunglasses to rival any designer and caught the eye of department store elites like Nordstrom, NA-KD and ASOS. NEM's team of Natalie, Janet Tran and Jonathan Coyle has proven to be a fashion force that continues to unleash hit after hit.
CatMoon Sunglasses is set to be a mix of cat eye inspired frames with renditions of throwback vintage and contemporary revisions on modern classics and retro legends. Our source on the CatMoon design team has confirmed that each of the collections will feature hand-worked acetate frames with stainless metal accents to ensure the quality of each piece is well beyond their projected asking price.
As a student, Kate found direction amidst the conflicting templates in fashion districts across the world. Each one demanding the same of buyers alike: Give up on quality to get the style you want or keep the quality of a style long dead with the dinosaurs. Frustration would require change and it would seem to come at the hands of young designers like Kate. Fueled by passion rather than pennies. The unhindered inspiration of this designer has sparked a movement of fashion that goes against the grain of rusty old and run of the mill. This looks to be the start of something new and we can't wait to see it!
Media Contact: 
Jose L. Montesinos
Phone: (909) 218-8169
Email: Media@catmoon.us
Source: CatMoon
---
Categories: Business News, Business to Business, Fashion and Apparel, E-Commerce and e-Business, Fashion, Fashion and Apparel Industry
Tags: cat eye sunglasses, catmoon sunglasses, fashion designers, Kate Langston, sunglass, sunglasses, trio trading
---