New Jersey Small Business Borrowing Stalls in December
Press Release
-
updated: Feb 28, 2018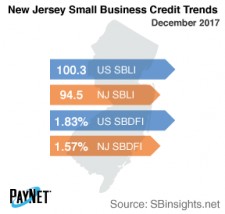 Trenton, NJ, February 28, 2018 (Newswire.com) - PayNet, the premier provider of small business credit assessments on private companies, reports that in December 2017 borrowing is stagnant in New Jersey. Of the 18 major industries, 4 increased and 13 fell in New Jersey.
The PayNet Small Business Lending Index (SBLI) for New Jersey came in at 94.5, performing comparable to last month's state level, but 5.8% beneath this month's national SBLI level (100.3).
Retail Trade (-17.6%); Public Administration (-15.3%); and Professional, Scientific, and Technical Services (-10.7%) were the three industries with the most unfavorable performance over the past year in New Jersey. Nationally, Retail Trade grew by 1.4% year over year.
After a comparable performance to November, New Jersey's PayNet Small Business Default Index (SBDFI) of 1.57% was 26 basis points under the national SBDFI level of 1.83%. The national SBDFI has remained unchanged compared to last year, whereas New Jersey's SBDFI dropped 7 basis points.
"More definitive trends are needed to gauge the future economic performance for New Jersey," asserts the president of PayNet, William Phelan.  
Source: PayNet
---
Categories: Economy, Small Business, Commercial Banking
Tags: Banking, Credit History, Economy, Lending, Local News, New Jersey, PayNet, SBDFI, SBDI, SBLI, Small biz, Small Business
---