New Infographic Sheds Light on the Truth Behind the Vaping and E-Cigarettes
VaporAuthority, a leader in the vaping industry, has released a new Infographic titled, "The Truth About Vaping Subculture: What the Mainstream Media Doesn't Want You to Know", with demographics about vaping that may surprise America.
Press Release
-
updated: Mar 5, 2018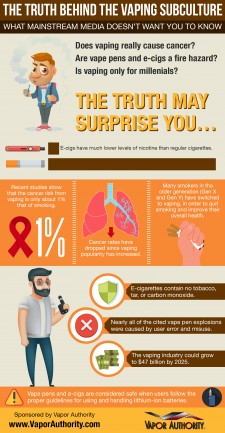 SAN DIEGO, February 26, 2018 (Newswire.com) - Vaping may have started with a small niche market, but it didn't take long to explode in popularity. As of 2015, 10 percent of Americans were vaping or using e-cigarettes, and vaping has only become more common since then.
Greater attention on vaping has also led to greater interest in potential health effects. While the mainstream media has frequently portrayed vaping in a negative light, an infographic created by VaporAuthority, a popular vape store, paints a very different picture.
Although there's a misconception that vaping and smoking are equally dangerous, the research doesn't back this up. Studies have shown that vaping poses a far lower cancer risk and is approximately 95 percent safer than smoking.
That's good news for the growing subculture of vaping enthusiasts. While this consists of people in all age ranges, vaping is more common among younger adults, with the 18-24 range having the highest percentage of vapers.
For many, vaping is a fun way to pass the time, but it also has several benefits. There's a social element to it, as vapers are an open group that welcome outsiders and newbies. The wide variety of e-liquid flavors means vapers can always find a new favorite.
Perhaps the best part about vaping is how effective it is as a method to quit smoking. Todd Skezas, CEO for VaporAuthority, says that "One of the reasons vaping works so well for smokers is that it allows them to gradually taper down their nicotine usage. Going cold turkey is a big struggle for the typical smoker, and vaping gives them an easier alternative."
With all the perks of vaping, it makes sense that the industry has grown rapidly, and it's expected that this will continue. One recent estimate on the e-cigarette and vaping market pegs it at $47 billion by 2025.
There's one other supposed danger of vaping that the media has latched onto, and that's vaporizers causing fires. While this can happen, it's not because of the vaporizer itself, and it doesn't occur at random. It's due to the lithium ion battery being exposed to excessive heat or a pressurized compartment, such as an airplane's overhead bin.
Many devices use lithium ion batteries, including smartphones, which means they, too, could catch on fire under these circumstances. Vapers who take care of their vaporizers properly don't need to worry about fires.
There's quite a bit of misinformation regarding vaping, but fortunately, that hasn't seemed to slow the industry's growth. Despite some negative coverage of vaping by the mainstream media, the research has shown that it's actually very safe. Check out the infographic, aptly titled "The Truth About Vaping Subculture: What the Mainstream Media Doesn't Want You to Know", to find out more.
PR inquiries and press interviews can be directed to Blair@BlairNicole.com
AboutVaporAuthority: Beginning in 2013, VaporAuthority is an online vaping shop based out of San Diego, California. It has all the products a vaper would need, and they also offer a helpline available to answer any questions people have about vaping.
Source: Vapor Authority
Share:
---
Categories: e-Commerce, Industry News
Tags: e-cigarettes, smoking, smoking rates, vaping, vaporizers
---