New in Winmo: TV Ad Buy and Airing Intel From iSpot
New integration expands partnership between sales intelligence and ad metrics leaders
Press Release
-
updated: Sep 20, 2018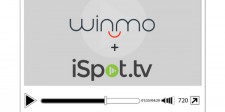 ATLANTA, September 18, 2018 (Newswire.com) - Winmo has teamed up with real-time TV ad measurement leader iSpot.tv to give users of its sales intelligence platform an enhanced vantage point of ad revenues. A new integration, available to customers of Winmo's top-tier subscription plans, brings a selection of TV ad metrics from iSpot.tv into the Winmo platform, breaking down recent broadcast media buys alongside the decision-makers who execute them.  
The partnership between the two companies was initiated last year, when iSpot.tv began integrating a selection of brand marketing contact data from Winmo into its advertising analytics platform. Now, Winmo is offering the reverse, displaying a portion of iSpot's proprietary TV ad data into its brand profiles through the new integration.
"Our goal is to provide publishers, networks and agencies breakthrough transparency into TV ad intelligence as a part of a complete picture of an advertiser," said Dave Currie, CEO of Winmo's parent company, List Partners LLC. "This brings key ad metrics from iSpot.tv into Winmo's advertiser profiles, as well as enhanced lead-targeting that empowers our customers to win and retain more ad business."
The Technology
iSpot.tv's proprietary TV ad measurement technologies provide disruptive brands and TV networks with a comprehensive view of advertising activity across linear, time shifted, OTT and on-demand TV environments. The company measures impressions, attention to creatives and connects ad exposures to business outcomes. While largely known as the leading measurement platform for brands and networks, the Winmo integration builds on iSpot's inherent value to sellers as well.
The Integration
Initially present on over 1,600 advertiser profiles in Winmo, the iSpot.tv ad metrics integration allows users to jump directly from a brand's contacts and agency relationships to a view of how TV budgets are being spent, with a recent selection of iSpot.tv data including:
TV Creative
Airings
Top Networks
Top TV Shows
Enhanced Search: Media by Network Filter
In addition to viewing the TV ad metrics directly on advertiser profiles, Winmo is beta testing search functionality that narrows down advertisers by network, based on recent airing data from iSpot.tv (two-week window at launch).
Users can leverage the new Media by Network search filter to hone in on brands whose ads have appeared on specific media properties, making the integration a valuable tool for identifying targets spending with competing networks.
The result is a seamless experience where ad sellers can find leads, qualify opportunities, and then, using the proprietary business intelligence Winmo is known for, identify the exact brand and agency buyers making purchase decisions to close more deals.
About Winmo
Winmo's advertiser and agency database tracks decision-makers who control $100 billion in marketing spend each year, allowing sellers to build lists, open doors, and close deals faster than ever before. In addition to up-to-date contact details, Winmo's award-winning sales intelligence platform boasts trigger-based opportunity alerts, integrated ad spend and buying behavior – all designed to help sellers reach the right contacts on the right accounts at the right time. For more information or to request a free trial, visit winmo.com.
About iSpot.tv
iSpot is a TV advertising measurement company that brings transparency, digital-like precision, and control to disruptive brands. The real-time platform empowers marketers with a complete view of advertising impressions, engagement, and attention conversion across all forms of TV, and connects those analytics to business outcomes. To learn more visit www.ispot.tv.
Source: Winmo
Share:
---
Categories: Advertising
Tags: ad measurement, ad sales, analytics, TV, TV advertising
---