New Horror-Fiction Podcast Series 'Camp Redrum,' With Age-Appropriate Scary Stories and Ethnically Diverse Characters, Launching July 19
Press Release
•
Jun 28, 2022
Parents and children will bond over the stories in this unnerving audio explosion of fun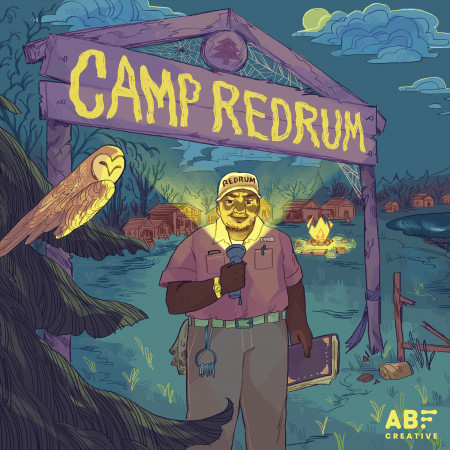 NEWARK, N.J., June 28, 2022 (Newswire.com) - Webby award-winning and multicultural podcast network ABF Creative is releasing a new podcast series on July 19th with age-appropriate scary stories and ethnically diverse characters that will appeal to and inspire generations of young listeners. The six-minute season trailer is available today.
The series, "Camp Redrum," grants parents an opportunity to connect with their kids. Inspired by the nostalgia of past kids' TV shows "Goosebumps" and "Are You Afraid of The Dark?", the series will allow both parents and children to bond over scary stories in this unnerving audio explosion of fun.
Anticipation for the podcast's release is high; the trailer for Camp Redrum was listed as one of the top trailers on Apple Podcasts. Camp Redrum can be subscribed to on Apple Podcasts, Spotify, and Amazon Music.
The Camp Redrum series has short (approximately 15 minutes), thrilling, scary stories told by mysterious camp janitor Eli from an abandoned summer camp.
At the risk of being stuck in the abandoned Camp Redrum, Eli is trapped until he finds someone who can replace him. When a group of kids breaks into his camp, he tries to distract them with scary stories while he devises a plan to escape. But by the time the story ends, his plan always fails. He tries again every week with new stories, but if he can't trick someone to stay, he'll be trapped at Camp Redrum for eternity.
ABF Creative's recent podcasts have been critically acclaimed.
Common Sense Media, an independent voice for kids, families, and communities everywhere, said ABF Creative's "African Folktales" with Miss Jo Jo "tells traditional African short stories with valuable lessons for young kids. The show packs entertainment, learning, and moral lessons into each bite-sized episode. Themes include sharing, compassion, and respect."
Common Sense called ABF Creative's collaboration with Amazon's Wondery Media "Adventures of Cairo" "an upbeat podcast for kids and families with a diverse cast of engaging and relatable characters. Kids will enjoy hearing about how Cairo Carter handles daily challenges posed by school, relationships, and growing up. Tough issues like bullying, the loss of a loved one, and stereotyping are handled in thoughtful, age-appropriate ways. Cairo learns something in each episode, whether it's how to be responsible with money or the importance of being yourself. At the same time, there is plenty of age-appropriate humor to keep things light. The hip and jazzy original music, along with the immersive sound production, will keep both kids and adults engaged."
For more information about "Camp Redrum" and to hear the trailer, visit CampRedrum.com.
Source: ABF Creative, Inc.