New Hope Fertility Clinic Now Offers Ovarian Rejuvenation
Press Release
-
updated: Nov 30, 2018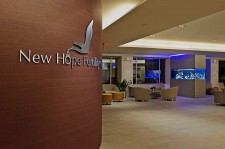 NEW YORK, November 30, 2018 (Newswire.com) - Ovarian rejuvenation, a newly pioneered infertility treatment, is offering women suffering from Premature Ovarian Insufficiency (POI) a chance to finally conceive a child and have the family they've always wanted. New Hope Fertility Center, a leading research and treatment clinic, has now established their own system of ovarian rejuvenation through a minimally invasive procedure. Helmed by internationally recognized Dr. Zaher Merhi, this novel procedure is redefining the age at which woman may become pregnant and challenging what most fertility specialists held to be the "window of fertility."
Research has shown that as women age, their ovarian wall becomes rigid and stiff. This puts pressure on the follicle, ultimately preventing normal egg development and reducing a woman's overall chance of achieving pregnancy. However, through New Hope's Modified Ovarian Rejuvenation treatment, specialists puncture the ovary itself, relieving pressure on the eggs lying dormant inside. By alleviating that stress, egg development stands a much better chance of transpiring properly, and the punctures will facilitate greater blood flow into the ovary, delivering much-needed growth factors.
Two other forms of ovarian rejuvenation are under development at New Hope as well. PRP (platelet rich plasma) injections, which have successfully been used in sports medicine, may be injected into the ovarian artery. The flood of plasma has been shown to potentially revitalize the ovarian tissue.  Similarly, stem cells may be used in the same way by creating a culture from fat cells, which are processed and injected back into the ovaries. Both techniques are experimental.
New Hope's various ovarian rejuvenations are groundbreaking developments that carry some tremendous implications. Foremost, women suffering from ovarian disease can seek this out as a premature ovarian failure treatment. Thousands of women under the age of 40 experience a failure in their reproductive system and ovarian rejuvenation gives them a chance to conceive. Pregnancy after menopause may even be achievable, though ideal candidates should be under the age of 40. Other primary patients include women who suffer from low levels of Anti-Mullerian hormone (AMH) and those with early perimenopause.
Once the procedure is completed, patients must return for weekly tests over the next month. Blood samples will be taken to measure levels of Follicle Stimulating Hormone (FSH), Estradiol (E2) and AMH. Vaginal ultrasounds will also be taken so specialists can monitor the number of follicles present within the ovary. 
Currently, New Hope specialists are ready to provide consultations for all three types of ovarian rejuvenation. With nearly 8,000 successful babies conceived through New Hope's program, their excellence speaks for itself. With the addition of this new procedure, there's no more asking if it is possible to get pregnant during menopause or when suffering from ovarian failure. 
For anyone considering fertility treatment, contact them today and book a consultation. New Hope also hosts monthly seminars and egg-freezing events to further delineate information about infertility and the ways to overcome it.  
Source: New Hope Fertility Center
---
Categories: Healthcare Technology
Tags: is it possible to get pregnant during menopause, Ovarian rejuvenation, Pregnancy after menopause, premature ovarian failure treatment
---