New Heights Cannabis Marketing Summit 2019 Presented by JLM Strategic Marketing Inc.
Press Release
•
updated: Jan 14, 2019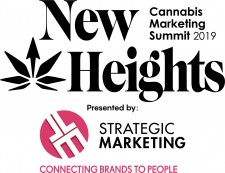 TORONTO, January 14, 2019 (Newswire.com) - JLM Strategic Marketing Inc. is pleased to announce the first annual NEW HEIGHTS CANNABIS MARKETING SUMMIT 2019 on THURSDAY, JANUARY 17, 2019 at the CN TOWER, TORONTO, ONTARIO.
EVENT DETAILS
About: Network with industry leaders and participate in the conversation that is shaping this new cannabis industry. Be at the forefront of new developments, hear about consumer trends, and get insights into the latest rules in the evolving retail landscape. Learn from cutting-edge brand leaders about how to play in the space and capitalize on recreational legalization. Gain insights into compliance, risk management, consumer trends, and be inspired by world-class examples of cannabis marketing. This is an event marketers won't want to miss!
Get Tickets: https://www.eventbrite.ca/e/cannabis-marketing-summit-2019-tickets-52051041065?aff=eac2
Summit & Cocktail Party Tickets: $250 + HST
Cocktail Party Tickets: $100 + HST
Event Info: https://jlmstrategicmarketing.com/cms2019
Event type: 1-Day Cannabis Marketing Summit
Date: Thursday, January 17, 2019
Venue: CN Tower
· Maple Leaf Theatre – Conference
· The Lookout Deck – Cocktail Party
Time:
· 8:30 A.M. Doors Open
· 8:30 A.M. – 9:30 A.M. Exhibitor Area Open
· 9:30 A.M. – 5:30 P.M. Conference
· 5:30 P.M. – 7:30 P.M. Cocktail Party
Number of attendees: 140 Conference, 200 Cocktail Party
Delegates: Marketing leaders in industries connected to or adjacent to cannabis. Brands that want to play in the cannabis space or who are impacted by the industry. Anyone interested in what has happened in the last 90 days and what the future looks like.
Ticket Holders include Licensed Producers, Retailers, Advertising Agencies, Government, Media, Investors, Tourism Industry, Music & Entertainment Industries, Food & Beverage and Beverage Alcohol Industries and more!
PARTNERS
Silver:
The GrowthOp – thegrowthop.com
In the quickly evolving world of cannabis, Postmedia's, TheGrowthOp.com provides a comprehensive source of current and credible information for industry professionals, investors, and consumers.
Bronze:
HEXO Corp. - hexocorp.com
HEXO Corp is cannabis producer based in Gatineau, Quebec. We focus on innovative, smoke-free and traditional cannabis products for the adult-use market as HEXO brand and the medical market as Hydropothecary.
One of the country's lowest-cost producers, HEXO Corp cannabis products are all sun grown and harvested in our 1.3 million sq. ft of state-of-the-art greenhouses using natural biological controls and continuous harvesting techniques.
Boss Promotions - bosspro.com
Boss Promotions has over 25 years of custom branding experience. They offer the most comprehensive worldwide supplier base, in addition to distribution and fulfillment capabilities in both Canada and the United States. They are leaders in promotional products and logo apparel.
Lift & Co. – lift.co
Lift & Co. (TSXV:LIFT) is a cannabis-focused technology and media company that monetizes a platform of advertising solutions, events, and data insights to enable cannabis businesses to better understand, target and ultimately monetize cannabis consumers.
Ethical Image - ethicalimage.com
Ethical Image is a full-service creative agency dedicated to developing innovative content and interactive storytelling within the Cannabis industry.
Crowdlinker - crowdlinker.com
Crowdlinker is an end-to-end digital product studio based in Toronto, with a deep passion for the maturing cannabis industry. They have the capabilities to help cannabis companies educate their customers through technology and create new revenue streams while navigating the current regulatory environment. The Crowdlinker Team consists of experts in digital strategy, creative design, full-stack development of websites & web/mobile apps and digital marketing, all with a relentless focus on innovation and helping new companies find product-market fit and scale their growth.
Get Real Branding - getrealbranding.com
We work together to establish a strong foundation for your business. Designing, building and maintaining a stable brand structure that allows your business to sustain long term growth.
Barefoot Brainstorming – barefootbrainstorming.com
Barefoot Brainstorming helps your business create big ideas that drive results, win new business and shape the future. Big ideas. Guaranteed.
The Printing House - tph.ca
The Printing House is a recognized leader and innovator in the printing industry. Proudly Canadian-owned and operated since 1961 and specializing in the short-run, on-demand printing. With over 70 Company-owned locations from coast to coast, TPH consistently meets and exceeds customer expectations for service, quality and speed.
SUPPORTING PARTNERS:
Hill Street Beverage Company - hillstreetbeverages.com
Eves of Eden - evesofeden.ca
Christopher Lawson - christopherlawsonphoto.com
Leafly - leafly.ca
mihi Cannabis - mihicannabis.ca
ABOUT JLM STRATEGIC MARKETING INC.
JLM is a marketing agency built by a team of integrated marketers and experienced business professionals who drive transformational results. We service blue chip clients to deliver great work that is designed to change how people think, feel and react to your brands! We are known for Experiential Marketing, Big Creative Ideas, Event Management, Event Production, In Field Staffing, Branding and Strategy.
For media inquiries, please contact:
Jennifer Mason
President, JLM Strategic Marketing Inc.
JLMStrategicMarketing.com/CMS2019
Phone: +1 416-400-5633
E-mail: Jennifer@JLMStrategicMarketing.com
Source: JLM Strategic Marketing Inc.
Related Media
Related Files
Additional Links