New Farmco Website Provides Farmers With Cost-Saving Hay Feeders Nationwide
Press Release
•
updated: Dec 5, 2019
Farmco Manufacturing has been helping farmers save money with cost-saving hay feeders since 1985. Both cattle and horse farmers have found their collection of hay feeders and other equipment a means of weathering difficult times in the farming industry. The launch of a new website is an effort to support more farmers in their quests to save money in hard times.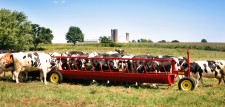 LANCASTER, Pa., December 5, 2019 (Newswire.com) - With the tough economic conditions in agriculture today, it's important that farmers have access to any information and equipment that could help increase their bottom line. That's one of the drivers behind the redesign of Farmco's website, www.farmco.ag. The new website focuses on giving farmers, ranchers, and equine specialists increased access to cattle feeders, horse feeders, hay wagons to help them increase efficiency on their farms.
According to Farmco CEO Michael Beiler, "We realized [that] to take our company and products nationwide we need to have a better website and also a way to respond quickly to … requests." Farmco's new website seeks to fulfill those goals by making product information more easily available online.
Several goals were identified for the new website, including:
1. Giving easy access to product information like manufacturing specifications and photos on a responsive, mobile-device-friendly platform.
2. Creating a simple process for prospective buyers to request more information about products and receive personalized quotes on equipment.
3. Involving local dealers in the process of serving buyers in their communities. Beiler noted, "The unique challenge for the E-Impact [Marketing] team was … our need to channel customers to their local dealer while at the same time be able to sell to customers outside of our dealer areas."
To accomplish all of these goals, E-Impact Marketing completely redesigned the website to highlight product photos and make product specifications more accessible. Additionally, a system was created which allows prospective buyers to select their preferred local dealer when requesting a quote. The request is then automatically forwarded to the local dealer for follow-up. (If there are no dealers in the customer's area, the request is handled directly by Farmco.)
E-Impact Marketing helped integrate a customer relationship management system so Farmco's office team can respond to customer requests more quickly.
​Beiler said, "We are very excited with the end result and expect to increase our sales 15% yearly by utilizing our website to sell and [help us] respond to customers while we are busy manufacturing … to fill other orders."
Contact Information:
Farmco
2937 Harvest Dr, Ronks, PA 17572
(717) 768-7769
Source: Farmco
Additional Links