New Exorcist Movie 'Holy Terror' Trailer Debuts
Press Release
•
updated: Jan 30, 2017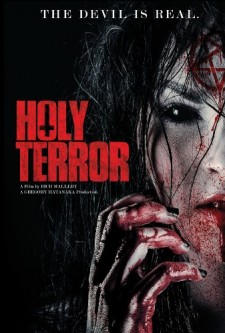 Los Angeles, CA, January 30, 2017 (Newswire.com) - ​​​​​​​​​​​​The riveting first official teaser trailer for the new supernatural horror film HOLY TERROR was just released today. This film is in post production via Cineridge Entertainment from the award-winning team who previously brought us SAMURAI COP 2: DEADLY VENGEANCE.
Written and directed by Rich Mallery (SOCIOPATHIA) and executive-produced by Gregory Hatanaka (who helmed SAMURAI COP 2 from a script co-written by Mallery), HOLY TERROR stars MEATBALLS' Kristine DeBell, Bruce Lee's GAME OF DEATH's Mel Novak, Lisa London (H.O.T.S., PRIVATE RESORT), Kelly Reiter (The Z Virus), Jesse Hlubik (MAY, ALL CHEERLEADERS DIE), Nicole Olson, Scott Butler (WIENER DOG INTERNATIONALS), and Vida Ghaffari (THE MINDY PROJECT, JIMMY KIMMEL LIVE).
Believing the strange disturbances in their home are their deceased son reaching out from the other side, Molly [Reiter] and Tom [Hlubik] ask a medium [London] to make contact. But instead of their child, the three accidentally invite a vengeful demon to cross over. After the demon violently possesses Molly's younger sister [Olson], the couple enlists the help of a disgraced priest [Butler] and his mentor Sister Catherine [DeBell] to attempt a dangerous exorcism.
"There has been a resurgence of exorcism/possession-type movies, so it's a little challenging to give audiences something they haven't seen before. But we have a few tricks up our sleeve that are going to make HOLY TERROR stand apart from the crowd. Plus, we're going for a real late-'70s/early-'80s feel. Films like THE CHANGELING, THE AMITYVILLE HORROR and of course the original EXORCIST are huge influences on this project," said Mallery.
"I'm really excited to be partnering with Gregory Hatanaka again; this is the fourth film we've worked on together," Mallery continues. "It's a little strange this time around, since usually he's directing and I'm the writer/AD, and this time I'm directing and he's the DP, but we're totally in sync when it comes to the vision, so we're like a well-oiled machine. We've brought back a lot of the cast of SAMURAI COP 2—Jesse Hlubik, Lisa London, Mel Novak, Kristine DeBell and Nicole Olson—and although this is a completely different type of film, it's great to have a lot of familiar faces who are used to the way Gregory and I work. We're both slightly insane, so it's amazing to be surrounded by people who support our vision."
"As Rich and I are both rabid fans of 70s AIP and New World horror pics," Hatanaka adds, "it was only a matter of time before we teamed up to do a film in that tradition. HOLY TERROR works on deep psychological levels, and has an otherworldly, TWILIGHT ZONE-ish kind of feel."
Holy Terror will be premiering this April on Amazon Prime.
More info at:
http://www.imdb.com/title/tt5924114/?ref_=fn_al_tt_2
Please join their facebook fan page for updates:
https://www.facebook.com/holyterrormovie/
For interview opportunities and media coverage, please contact williamsonmgmt@gmail.com
Source: The Williamson Management on behalf of CineRidge Entertainment
Related Media