New Energetic Colors for Gyms for Dogs Product Line
Range of colors available that can complement any dog facility, including but not limited to nutmeg, green, blue and red
Press Release
-
updated: Jul 11, 2018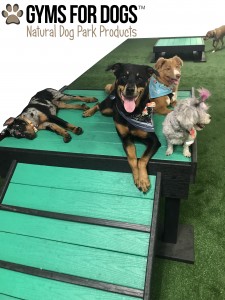 INDIANAPOLIS, July 11, 2018 (Newswire.com) - Gyms For Dogs™ has introduced new fall colors to their COLORPLAY™ product color selection process. These new colors range from a natural earth-friendly nutmeg color to a brilliant energetic proprietary "let's play" green. The bolder color selections such as red and blue create a lively vibrant play setting. 
The COLORPLAY™ color selection process allows for doggie daycares, boarding facilities, public parks and multi-family projects to tailor the play products to match the park's best color palette. These unique and propriety colors offered have been carefully selected to be the most aesthetically pleasing and also create playful energetic park areas.
The Gyms For Dogs™ products are great for indoor and outdoor play centers, private park facilities and any public park. All of Gyms For Dogs™ play products are designed with eco-friendly recycled plastic and created for heavy commercial use and carry a 50-year materials warranty.
Gyms For Dogs™ - Natural Dog Park Products™ offers a complete line of proprietary dog park and dog play items. Manufactured with recycled plastics and designed for a playful experience for the dogs and their owners. The products are very natural looking but can be colored in many different options to be tailored to the park's needs. They feature a complete line of natural products with gentle design features so dogs can exercise while having fun. Manufactured in the USA and made to each customer's specific color selections. http://www.gymsfordogs.com/
Media Relations
Kirstan Kemezy
800-931-1562 Phone
play@GymsForDogs.com
Source: Gyms for Dogs
---
Categories: Pets, Apartments
Tags: custom dog park, dog, dog adgility, dog agility, dog health, dog park, eco friendly, exercise, fur babies, pets, recreation, recycled
---