New Deer Solution Franchisee on Philadelphia's Main Line Has the Solution for Deer Damage
Press Release
•
May 18, 2023
Longtime Main Line Resident Joe Garzio Opens Deer Solution Repellent Service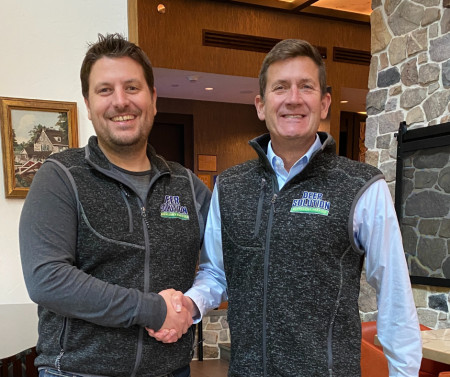 WAYNE, Pa., May 18, 2023 (Newswire.com) - Local resident Joe Garzio is ready to solve the Main Line's deer damage problem with Deer Solution, a deer repellent service franchise that helps protect landscapes from the ravenous appetite of the local deer.
With both a Forestry and Biology degree, Garzio's professional career has included past employment with the U.S. Forest Service and the Delaware Department of Natural Resources and Environmental Control and he worked as an environmental consultant to the U. S. Environmental Protection Agency, so he understands the havoc that deer can reap on the environment. When asked why Deer Solution, Garzio said, "We all like to have our homes surrounded by beautiful plants. In most cases, this vegetation was expensive. Living in the community, I have witnessed our exploding deer population and the carnage they inflect. Deer Solution is the only practical option to save homeowners' vegetation from hungry deer. This franchise is certainly filling a need in my community."
Garzio has lived on the Main Line for over 20 years. Not only has he raised his family in this community, but he has been a member of the Radnor Shade Tree Commission and is active at the leadership level within the Cub Scouts. Prior to joining Deer Solution, Garzio ran a successful international shipping franchise.
Jaime and Kris Goodrich, co-founders of Deer Solution, are excited to have awarded their third franchise to Garzio. "Joe's background in environmental consulting and his past experience as a business owner make him the perfect person to bring this business to the Main Line," says Kris Goodrich. "Joe has demonstrated that he is hardworking and honest. We have no doubt that he will be a caring owner who will make sure the interests of his clients are met before all else."
Deer Solution of the Main Line services customers in Delaware and Chester counties. Homeowners interested in service can call 888-503-8313 for a free estimate or visit the company website: www.deersolution.com.
About Deer Solution
Deer Solution is a locally owned and operated deer damage control business. Deer Solution's all-natural proprietary repellent is family, pet and environmentally friendly. Its pleasant-smelling repellent dries virtually clear and odor-free and won't harm the plants or deer. For more information on Deer Solution repellent services for your home or workplace, visit www.deersolution.com. To find out more about the franchise opportunity, visit www.deersolutionfranchising.com.
Source: Deer Solution