New CPSG Report Finds In Spite of Post-Pandemic Challenges, Access Control Businesses Thrive
Press Release
•
Aug 24, 2022
Leading Nationwide Distributor, Controlled Products Systems Group, Releases Annual Industry Trend Report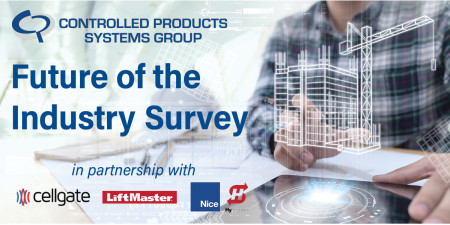 DENVER, August 24, 2022 (Newswire.com) - The access control industry continues to face challenges. And yet, its growth continues to outpace those challenges at almost every turn. That's the theme of an industrywide report released by Controlled Products Systems Group earlier this year. The nationwide distributor of perimeter access products surveyed hundreds of its clients, companies of almost every size that do business in fields like residential and commercial gate automation, crash barrier installation, door installation, security integration and perimeter access design.
As one of the industry's largest wholesalers, CPSG says its annual Industry Trends Report is meant to help access providers and installers find success by keeping them abreast of threats and opportunities across the industry.
Over this last year, it seems, the opportunities outweigh the threats.
"The news is good news," said Zach Eichenberger, Director, Products & Services at CPSG. "The 2021 report shows 65% of businesses experienced increase sales in the past year, with only 15% reporting declines. Majorities reported growth in both the residential and commercial sectors, with post-pandemic factors like increased capital investment and a greater interest in home delivery seeming to provide a boost."
That's true, the report suggests, even in the face of pandemic-related challenges like global supply chain issues and rising costs.
"After the pandemic started, our first annual report revealed the fast recovery businesses experienced in our industry," Eichenberger said. "What we're seeing now is that, although we're not immune to global economic challenges, the opportunities of a recovering economy are even greater."
The CPSG Industry Trend Report lists three specific opportunities surveyed businesses are experiencing. For a copy, you can email info@ControlledProducts.com or reach out to a local CPSG representative using the Contact page at ControlledProducts.com.
About Controlled Products Systems Group
Controlled Products Systems Group (CPSG) is the largest wholesale distributor of perimeter access control and safety equipment in the U.S. With 34 locations, CPSG supplies equipment to authorized dealers from coast to coast. CPSG offers the highest quality, most widely recognized brands of access control products available on the market. As a broadline distributor, CPSG provides its customers with expansive inventory and leads the industry in product knowledge and technical support. For more information on CPSG's products and services or to find a location near you, visit controlledproducts.com.
Contact
Jamie Emerson
5000 Osage St. #500
Denver, CO 80221
O: 800.622.5335
jemerson@controlledproducts.com
Source: Controlled Products Systems Group