New Comparison Study Shows Patients Over the Age of 60 Are 3-5 Times More Likely to Choose Vidatak's Communication Products
Press Release
-
updated: Sep 25, 2018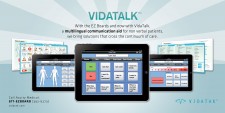 ANN ARBOR, Mich., September 25, 2018 (Newswire.com) - With over 80 percent of hospitals in the U.S. using the EZ Board, Vidatak has helped over 2 million patients who suddenly lost their ability to speak because they required mechanical ventilation, had undergone head and neck surgery or experienced some other unexpected vocal disability.
These patients are extremely vulnerable and rely on alternative and efficient methods to communicate their needs to their family members and care providers. When unable to communicate effectively, these patients experience extreme frustration, panic, anxiety, sleeplessness, fear, frustration, isolation and insecurity. Reducing frustration and anxiety for these patients can help reduce sedation exposure which can lead to improved outcomes such as reduced incidence of delirium, increased ventilator-free days and reduced length of stay.
In this recent study, published in the Journal of Gerontological Nursing, September 2018, Nilsen, et al. evaluated the usability and acceptability of six commercially available communication tools among older adults in a controlled setting affiliated with the University of Pittsburgh. With an average age of 71 years, participants greater than 60 years old evaluated various communication boards and communication applications by using the tools to communicate needs and symptoms in various scenarios.
Although task performance was better with the communications boards versus communication applications, there was no statistically significant difference in task completion with either form of communication. Further, while no differences were found in patient's perceptions of which communication tool was more useful, overall acceptance measure scores were better for Vidatak's products, with lower scores indicating a more positive response. Finally, when patients were given the option to choose which communication tool they preferred to use, patients were 3-5 times more likely to choose Vidatak's Picture Board, VidaTalk application and the EZ Board over other communication products, in that order.
Evaluating the Usability and Acceptability of Communication Tools Among Older Adults. Nilsen ML, Morrison A, Lingler JH, Myers B, Johnson JT, Happ MB. J Gerontol Nurs. 2018, 44(9):30-39.
ABOUT VIDATAK, LLC
Vidatak is a small business focused on delivering evidence-based patient communication solutions for mechanically ventilated patients and patient with limited English proficiency to effectively communicate their needs to care providers and family.
For more information about Vidatak, LLC and VidaTalk, contact:
Vidatak, (877) EZ Board / 877-392-6273
customerservice@vidatak.com
Source: Vidatak, LLC
Share:
---
Categories: Healthcare Technology, Nursing
Tags: communication board, EZ Board, healthcare communication devices, patient communication, Picture Board, VidaTalk
---