New Colorado-Based Real Estate Show Launches
Press Release
-
updated: May 18, 2020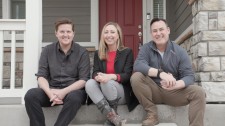 DENVER, May 18, 2020 (Newswire.com) - Three media professionals have launched The Listing Colorado, a real estate show that highlights buying and selling and real estate-related stories in Colorado. 
The show's co-producers are Candice Brown-McElyea, Matthew Carman and Paul Joyner. The trio started the show to highlight the robust real estate market in Colorado, be a resource for buyers and sellers and provide tips for homeowners and home seekers. 
The first episode follows the story of a Colorado nurse who needs to sell her home during the coronavirus (COVID-19) epidemic and the challenges she faced. There are also interviews with Kurt Bozarth, managing broker of Keller Williams DTC, on real estate market trends, and Denver Virtual Staging about virtual home staging.
Episode 2 will complete the nurse's story, share tips from Realtors on buying and selling and discuss closings with title companies, the apartment rental market and mortgage lending during COVID-19 with an interview from Ross Barrett of Guild Mortgage in Greenwood Village.
"We saw a real need for an engaging show that highlighted local stories about real estate in Colorado, and we hope the show serves as a relevant resource for people interested in the real estate market here," said Brown-McElyea, who is also a co-host of The Listing Colorado. "Eventually, we'd be interested in offering sponsored segments for builders, developers, Realtors and others involved in the real estate profession as well."
Brown-McElyea is founder and president of One Eight Oh, with a Florida-based public relations firm and a Denver-based real estate business. She has a thorough background in real estate sales, public relations, marketing, management, digital media and communications. A graduate of the University of Florida, she started her professional career as a television news reporter, working on-air in Gainesville and Sarasota, Fla. And Salisbury, Md. After a lengthy career in TV news, Candice went into real estate, working as a top producer in sales, management and training for Lennar Homes and WCI Communities. She then transitioned to a marketing role with the largest real estate developer in Florida, and in 2012, she started her own communications firm. Currently a licensed real estate broker in Florida and Colorado, she is also a freelance on-air host and commentator.
Carman is the strategic business development account manager for professional sports and houses of worship for Canon USA in the Denver area. He oversees 13 states and more than 700 accounts. He trains and works with film, journalism, media and communication departments to build relationships and teach the newest production systems available. He possesses more than 27 years of broad-based experience that encompasses directing, editing, cinematography, field producing, set design and consulting. Carman is also currently a director, field producer and cinematographer for Little Village Productions. He has experience producing and editing a vast array of productions ranging from live TV, reality TV shows, commercials and industrial, documentary and features work. Carman previously served as the cinematographer and field producer for NBC Sports, filming outdoor productions worldwide for the No. 1 ranked outdoor TV series Bucks of Tecomate Television. He has also worked at WUSF Television - University of South Florida, Blab TV and SNN in Florida.
Joyner has more than 10 years of experience as a content producer, including video and photography. He is currently a producer at JOIN Production in Denver, Colo. Joyner founded Paul Joyner Photo 10 years ago where he works as a video producer and a photographer, creating relevant and compelling content for companies. He is also the product and lifestyle photographer and videographer for the brand ezpz. Previously, Joyner acted as the photographer for the look book, general marketing and product portraits for Darcy's and Bootights. He has also freelanced for Southbay Magazine and Ventura Blvd Magazine and was the on-set photographer for My Life as a Dad, a YouTube show featuring celebrity dads talking about being dads.
To follow upcoming episodes, visit The Listing Colorado's YouTube channel or visit the show's Facebook or Instagram pages.
For more information, please contact:
Candice Brown-McElyea
360Candice@gmail.com
941-232-9046
Source: The Listing Colorado
Share:
---
Categories: Real Estate
Tags: Colorado, Real Estate, Real Estate Market
---