New Collection of Letters From Prison Offers Advice to At-Risk Youth and a Glimpse at Life Behind Bars
Press Release
-
updated: May 24, 2018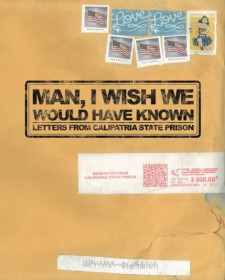 NEW YORK, May 24, 2018 (Newswire.com) - Saturday, June 2, 2018, at the Cal State LA Fine Arts Gallery, Brick of Gold Publishing will release their latest title, "Man, I Wish We Would Have Known: Letters From Calipatria State Prison," a powerful collection of handwritten letters from inmates addressed to at-risk youth in response to the prompt, "If you could have given yourself advice as a teenager, what would it be?" The book release is the opening night event of a month-long symposium on prison reform organized by Unlock Tomorrow and Words Uncaged, non-profit organizations providing creative outlets and resources for incarcerated men and women in California.
Prison reform and the criminal justice system are increasingly pressing issues with over 2.2 million people currently in overcrowded prison in the United States. Calipatria Prison, built in 1992, was designed for 2,000 people, but currently houses over 4,000 inmates. The issue has captured the attention of celebrities and the general population alike (the symposium is taking place in partnership with rapper YG), and the book arrives in a wave of projects illuminating the reality of our prison system.
The letters in the collection are brutal and honest. They tell tales of violence and regret and hope for the future. Unlock Tomorrow founder Ray Adornetto says, "When we tell our stories, that's when we can heal as individuals and as a society. I hope this book is proof of that." Well-known criminal justice reform activist and founder of Prosecutor Impact, Adam J. Foss, calls the book, "an invaluable resource."
"Man, I Wish We Would Have Known" is available now online and will be sold at the launch event. 50% of all book sales will go to Unlock Tomorrow to continue funding programs for prisoners and at-risk youth.
Source: Brick of Gold Publishing Company
Share:
---
Categories: Arts and Entertainment
Tags: advice, at-risk youth, books, criminal justice system, education, letters, prison literature, prison reform, this is america
---