New Classifieds and Auction Website AffordableClassifieds.com Takes on eBay and Craigslist
Press Release
•
updated: Jun 20, 2017
Affordable Classifieds is a new website offering up low-cost full-featured classifieds and auctions. Listings are focused on the Auto, Powersports, RV and Trailer markets. Private parties and dealers alike can list new and used items for just about anything for these segments, including parts and accessories, apparel, new products, employment and much more.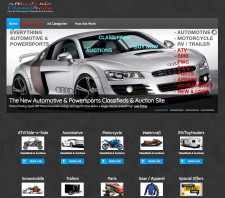 Riverside, California, June 20, 2017 (Newswire.com) - ​​​​​Tired of the complexity and high cost of eBay? Tired of the limitations of Craigslist or having someone come to your house to buy something? This may all be changing with the release of a new full-featured classifieds and auction site AffordableClassifieds.com. According to the site's creator Bill Wolf, the site is specifically designed to serve the Auto, Powersports, RV, and Trailer markets. Powersports includes the Motorcycle, ATV, Side-by-Side, Snowmobile, Watercraft and Snowmobile segments.
What's different about AffordableClassifieds.com is that it brings together, for the first time, all of these vehicle categories in one convenient location — and for a fraction of the price specialty listing sites charge. The site doesn't display those pesky ads that pop-up thus preventing viewers from seeing actual content. Consumers can view or list classifieds or auctions for all their motorized needs and dealers are able to place their entire inventory online while saving a tremendous amount over what's currently available. There's a host of additional features available to dealers including a private storefront where all of a companies listings, even if they are from multiple categories, will display on a single page. RV listings, for example, display far more information than other listing sites as the Affordable Classifieds system walks those placing ads through a checklist of applicable features. This makes the placement of a listing easier and more informative.
"Affordable Classifieds rivals or surpasses specialty sites serving these segments — but without the complexity and clutter."

Bill Wolf, President
There's a lot more to AffordableClassifieds than offering up vehicle listings. Additional sections include new and used parts and accessories, riding gear, apparel, and much more — including industry jobs. Consumers and dealers can also place nationwide "Buy Now" auctions where visitors can purchase listed items in real time and pay through the provided PayPal link. Additional categories include directories for listing a company, dealer, special services and even listings for industry events. One unique category is the "special offers" section which allows companies to list things like special financing offers, factory sales events, factory rebates or even dealer special events.
Affordable Classifieds is said to have been in the works for some time and is launching now. The company has listed an introductory special offer where consumers can lock in a rate of just $1 for all standard listings for an entire year. Visit www.affordableclassifieds.com to view this offer or just register with the limited-time registration code of "1year1dollar."
Press Contact
Bill Wolf
Motorsports Network
admin@affordableclassifieds.com
Source: AffordableClassifieds.com
Related Media
Tags