New CEO, New Logo for the Nashville LGBT Chamber
Press Release
•
updated: Aug 13, 2018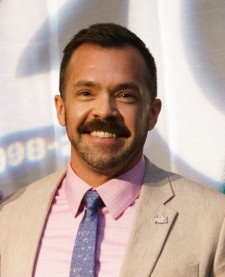 NASHVILLE, Tenn., August 13, 2018 (Newswire.com) - Following an extensive search and candidate review process, the Nashville LGBT Chamber today named Joe Woolley as the organization's next chief executive officer. Representing more than 325 businesses and individuals in Nashville and the surrounding area, the Nashville LGBT Chamber of Commerce is the premier advocate of the Greater Nashville Lesbian, Gay, Bisexual and Transgender business community. Woolley succeeds Lisa Howe who served as the Chamber's CEO for the past six years. Howe resigned her position earlier this year to return to her home state of Texas where her wife Wendy accepted a position at the Episcopal School of Dallas.
"Joe has outstanding qualifications to continue our fast-moving, upward trajectory," said Ron Snitker, President and Board Chair of the Nashville LGBT Chamber. "The Chamber has a lot of momentum right now with a 34% average annual membership growth since 2012, the creation of our foundation which provides scholarships for LGBT business owners to grow their businesses, receiving an appropriation to assist in getting more minority-owned businesses registered with our metro government, expansion of our programs and events and numerous local and national accolades."
"It is a huge honor and privilege to be named CEO of the Chamber," Woolley said. "I have dedicated the last four years in service to this organization and the mission I believe so strongly in, and I am excited to continue working on that in a new and different leadership role. The Chamber has come so far in 20 years and has had huge growth and successes in the last few; I am ready to work with our members, the board, and the broader Nashville community to keep our growth and success going."
Woolley is a Chamber veteran, having served four years on the board of directors; one year as chair of the marketing committee, one year as vice-president and two years as President. Additionally, he has extensive nonprofit experience from serving on numerous boards and commissions and operating a nonprofit consulting business working with numerous local and national organizations. Woolley was recently named to the 2018-19 Leadership Nashville class.
Woolley holds a Bachelor of Arts Degree in Journalism from Belmont University where he was the first graduate of the New Century Journalism Program in 2006. He worked in several media organizations in New York City after graduating, including two years as a foreign news producer for CBS News. After returning to Nashville in 2008, he worked in communications and marketing in a study abroad program and in education policy.
Woolley has a long history with LGBT and political advocacy in Nashville. He was one of the founders of the Tennessee Equality Project in 2004. He has worked on multiple political campaigns supporting candidates with pro-LGBT platforms and has been active in raising funds for out candidates through the Victory Fund.
The Nashville LGBT Chamber's Board of Directors established a Search Committee that conducted a thorough process to locate and vet the best possible candidate. "We had qualified applicants apply from around the country. We put them through a rigorous selection process that included an introductory video, two 90-minute panel interviews with our search committee, and a presentation to our entire board on their vision and onboarding priorities along with a meeting simulation for a potential corporate-level member," Snitker said. "The board felt it was important for us to continue building on our successes quickly."
New Logo Unveiled
The Nashville LGBT Chamber also launched a new logo, marking the next era for the organization.
"Our new logo communicates who we are today and builds on the past 20 years of experience to represent us through the next phase," said marketing committee chair and board member Christopher Lester. "It was important for us to create a logo that included an easily identifiable icon the represents the LGBT community, Nashville, and our work as a connector within the business and diversity communities."
The creative concept was developed by DVL Seigenthaler, Finn Partners company, whose team included Ryan Witherell, Partner; Peter Honsberger, Associate Creative Director; and Noelle Grimes, Associate Art Director.
Click here to download The Nashville LGBT Chamber's new logo. To see the history of the Nashville LGBT Chamber and the evolution of the Nashville LGBT Chamber mark since its inception, click here.
About the LGBT Chamber
The Nashville LGBT Chamber of Commerce advances common business interests, economic development, and equality in the workplace for its LGBT members, businesses, and allies by providing networking, educational, and community building opportunities.
Contact: Ron Snitker, Board President
president@nashvillelgbtchamber.org
615-507-5185
Source: Nashville LGBT Chamber of Commerce
Related Media