New Book "What's Wrong With Mommy?" Just Released about Postpartum Depression from a Mother of Nine
"What's Wrong With Mommy?" is an insightful and honest book about Joanne Diaz's journey with postpartum depression. JoAnne is a wife and mother of nine children, which is a quite a story in itself!
Press Release
-
updated: Nov 3, 2016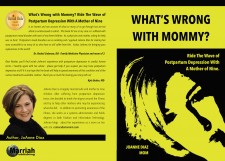 Easton, PA, November 3, 2016 (Newswire.com) - Marriah Publishing is proud to announce the launch of its newest book written by author, JoAnne Diaz entitled, "What's Wrong With Mommy? - Ride The Wave of Postpartum Depression With a Mother of Nine". The book is now available on Amazon.
When JoAnne Diaz had her ninth child and moved into a new home a week later she experienced her second bout of postpartum depression. As opposed to her first mild bout of postpartum depression with her fourth child, this experience was quite severe landing her in the emergency room. Enjoying a new baby and the home of dreams was supposed to be the happiest of times but instead it became the scariest time in her life.
Faced with a wave of postpartum depression for months on end, JoAnne battled what many mothers of newborns face: intrusive thoughts, severe anxiety and depression. During her recovery, she vowed to help other women who were also battling this illness and so began writing her book. In her book she shares her personal story with postpartum depression and how she survived it. She hopes to break the stigma around this illness that is experienced by millions of women yet so very misunderstood.
"What's Wrong with Mommy? Ride The Wave of Postpartum Depression With A Mother of Nine is an honest and raw account of what so many of us go through but are too afraid or embarrassed to admit. This book hit me at my core as I suffered with postpartum mood disorder with each of my three children. As a physician and mother, asking for help was so hard. Postpartum mood disorders are so isolating and I applaud JoAnne Diaz for making her story accessible to so many of us who have or will suffer from this. Kudos JoAnne, for bringing your experiences to the world!"
About the Author:
JoAnne Diaz is a happily married wife and mother to nine children ages ten and under. When JoAnne is not caring for her children, she works as a Systems Administrator. In JoAnne's "spare" time she blogs and writes books.
You can follow JoAnne's adventures on Twitter, Facebook and on her blog: www.camaraderiemom.com
Source: Marriah Publishing
---
Categories: Books, Healthcare, Parenting
Tags: Amazon, JoAnne Diaz, Mental Health, Mothers, Postpartum Depression, Pregnancy, What's Wrong With Mommy
---