New Book Details How Networks Support Personalized, Project-Based Learning at Scale
Press Release
•
updated: Jul 16, 2018
Tom Vander Ark and Lydia Dobyns author new book, "Better Together," to showcase the power of school networks in education innovation.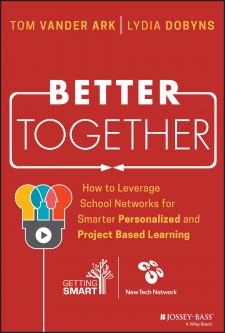 ST. LOUIS, July 16, 2018 (Newswire.com) - This weekend, on stage in front of over 1,500 educators at the annual New Tech Conference, Tom Vander Ark, CEO of Getting Smart and Lydia Dobyns, CEO of New Tech Network, launched their new book -- "Better Together: How to Leverage School Networks for Smarter Personalized and Project-Based Learning." District leaders, Charter schools, principals and teachers aim to improve student outcomes, but old constraints and inadequate tools and supports make it extremely difficult to innovate at scale. The answer is working together in formal and informal networks. That notion and the power of network effect on education inspired Vander Ark and Dobyns to co-author the new resource.
The authors believe that students need to be problem solvers, capable of self-directed learning and demonstrate strong communication and collaboration skills. "Better Together" presents a tour through one of the modern era's most important educational innovations and provides smart strategies for working together in both formal and informal networks to achieve the promise of high-quality personalized learning for all students.
A wise superintendent once said, 'Isolation is the enemy of improvement.' This invaluable book provides a powerful rationale, great examples, and incredibly useful guidelines for genuine innovation networks among teachers and schools. It should be in every education leader's tool box.

Tony Wagner, Author of "The Global Achievement Gap and Creating Innovators"
"Global momentum around deeper, project-based learning is undeniable. There is widespread attention being paid to social and emotional skills which are encouraging and productive and more youth are gaining access to powerful learning in and out of school. The problem is, this stuff is hard to do," said Vander Ark. "For the most part leaders are making it up on the fly. We can't and shouldn't rely on individual teachers building and delivering lessons for diverse groups of learners. If willing and able (and well supported), that's great, but let's leverage their work across 100 or 1,000 classrooms" he added.
Taking a "do-it-yourself" approach to innovation poses significant challenges. "Better Together" profiles over a dozen school networks and introduces teachers, principals and district leaders who have re-imagined hundreds of schools with the support of networks. The authors also lead readers through:
Proven learning models for scaled school networks
The latest innovations for more effective collaborations
Smart strategies for optimizing the educational network experience
"New Tech Network's nearly 20 years' experience is rooted in the belief that to build and sustain innovative schools; districts need to address the whole school ecosystem. One of our foundational beliefs is that schools get better by being part of a community. We think school networks hold the best potential for solving the most complex challenge we face today: closing the opportunity gap for all students, no matter where they live," said Dobyns.
Vander Ark and Dobyns will be touring the country speaking about the new book. They are also launching a suite of workshops and events around "Better Together" and how to participate and start networks of your own. To learn more about the book, click here.
Media Contact:
Krista Clark, Director of Communications
707-307-3345
Jessica Slusser, Director of Communications
Getting Smart
253-944-1592
About New Tech Network
New Tech Network, a national nonprofit organization, is a leading design partner for comprehensive K-12 school change. We coach teachers and school leaders to inspire and engage all students through authentic and challenging work. The New Tech model combines pervasive project-based learning, an engaging school-wide culture and the real-world use of technology tools and resources. We support the whole school through three key structures: professional development events, coaching, and Echo, the NTN project-based platform.
New Tech Network students consistently outperform national high school graduation and college persistence rates. The network consists of more than 200 schools in 26 states and Australia.
About Getting Smart
Getting Smart® is a learning design firm passionate about accelerating and amplifying innovations in learning. Our service division provides advisory, advocacy and design solutions for a network of impact-oriented partners that help people and organizations learn, grow and innovate. Going beyond traditional consulting, our team integrates strategy, thought leadership, advocacy and strategic communications to maximize impact for our partners. Our media channel, GettingSmart.com is a community of learners, leaders and contributors that cover important events, trends, products and publications across K-12, early, post-secondary education and lifelong learning opportunities.
Source: New Tech Network
Related Media
Tags