New Book by Author Sue Binder Criticizes Private Prison Industry
Press Release
•
updated: Apr 7, 2017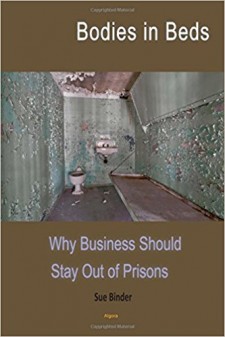 Lamar, CO., April 7, 2017 (Newswire.com) - Bodies in Beds: Why Business Should Stay Out of Prisons takes on the private prison industry's thirst for profit at the expense of offenders, taxpayers, and staff. The author contends that the private prison industry is only interested in maximizing the number of people it has in prisons, not in rehabilitating them—hence the title—Bodies in Beds.
Author Sue Binder examines the issue of privatization from her perspective of thirteen years working as a mental health coordinator in a private prison. She focuses on the failure of the system to provide adequate treatment and successfully integrate inmates back into society, including the suicidal potential of inmates who do not get adequate attention.
"The author should have resigned from her position with CCA and released this account much sooner."

Alex Friedmann , Director of Human Rights Defense Center and Managing Editor of Prison Legal News
Bodies in Beds takes the reader from the birth of the first private prison, founded by Corrections Corporation of American (now CivicCore) up through the current status of privatized prisons under the Trump administration.
Using a combination of personal experiences and research, Binder analyzes topics such as safety and security issues for offenders and staff; the huge salaries of the corporation's chief officers versus employee salaries; and the growing importance of immigration profits for the private prison industry.
In addition, the book reviews the functional structure of the privatized prison with its sole emphasis on profits and lack of attention to staff safety. This is exemplified in the inability of the mental health staff to actually provide counseling or therapy due to insufficient staff and time constraints. It also describes the influence of the privatized industry's lobbying and strategies for negotiating contracts with states.
Alex Friedmann, associate director of the Human Rights Defense Center and managing editor of Prison Legal News, stated that his only criticism of the book is that "the author should have resigned from her position with CCA and released this account much sooner."
Binder, a Licensed Professional Counselor and a Licensed Addiction Counselor, has more than forty years' experience in the counseling field. She wrote this book to reveal how privatized prisons do not meet the needs of inmates and cheat staff but are loyal to their shareholders.
Published by Algora Publishing, Bodies in Beds, 244 pp. and is available through Amazon or directly from the publisher in paperback for $21.95, hardbound for $31.95 and e-book for $21.95. For more information, visit http://www.algora.com/522/book/details/html.
Contact Information
S.Binder
csbinder@hotmail.com​
Source: Sue Binder