New Book Announcement: TBC30
From Nationally Recognized Fitness Expert, Michael Wood, CSCS
Press Release
-
updated: Jun 14, 2018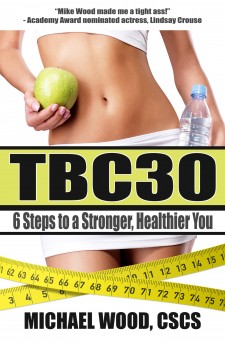 EAST SANDWICH, Mass., June 14, 2018 (Newswire.com) - Certified strength and conditioning specialist and nutrition coach Michael Wood offers readers an inside look at how he trains his private clients using his unique step-by-step approach that follows the same nutrition and exercise strategies that have made him a nationally recognized expert in the field.
The TBC30 plan gives readers a game plan for teaching the same science-based approach that has worked for Michael and his clients for more than 30 years. His 6 step plan will help change your mindset and eventually your behavior. The TBC30 plan includes a high-quality exercise regime with nine nutritional strategies which are woven together with the use of today's technology. Empower yourself to reach your health and fitness goals with Michael's invaluable TBC30 plan.
Michael Wood, CSCS, PN1, is a certified strength & conditioning specialist and nationally recognized fitness expert. His exercise programs have appeared in two other books, The 30-Minute Fitness Solution by JoAnn Manson, MD (Harvard Press, 2001) and Cut Your Cholesterol by David Katz, MD (Reader's Digest, 2003). Michael is the co-author of ten scientific research papers and abstracts as a result of exercise research completed at the USDA Human Nutrition Research Center on Aging at Tufts University in Boston. 
Michael has been featured in news media and print publications such as U.S. News & World Report, Boston Magazine, Men's Health, USA Tennis, Prevention, Best Life, Men's Fitness, Boston Globe, Denver Post, Delta Sky Magazine and the Journal of Strength & Conditioning. His exercise programs are completed more than 200,000 times each month by members at Koko FitClubs across the U.S. and Canada. Michael was named twice by Men's Journal as one of the "Top 100 Trainers in America" and voted Best of Boston by Boston Magazine. He lives in Massachusetts on Cape Cod with his wife and daughter. Michael's coaching services and products are available. To inquire, please visit: michaelwoodfitness.com
TBC30: 6 Steps to a Stronger, Healthier You (Wicked Whale Publishing, 260 pages, $14.95, ISBN # 9781732192508)
Media Contacts: Wicked Whale Publishing at capecodscribe@yahoo.com and Michael Wood at woodspg@gmail.com and 508-369-5430.
Source: Michael Wood Fitness
---
Categories: Books, Exercise and Physical Fitness
Tags: book review, books, diet and exercise books
---