New Author Jeff Jorgenson Opens the Brave New World of Aviation to Enthusiasts at Any Level in His Gravity-Defying and Richly Informative New Work
Author Jeff Jorgenson's new book Open Air: How People Like Yourself Are Changing the Aviation Industry, shares the once secret hack of getting real air time. Inspired by flight since childhood, Jorgenson has unlocked the door for other hopeful aviators with this account of his unique, personal experience.
Press Release
-
updated: Jul 28, 2017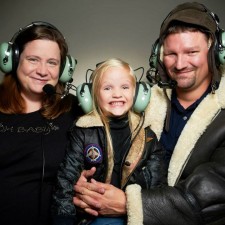 Pella, Iowa, July 28, 2017 (Newswire.com) -  Jorgenson has succeeded in making his childhood fantasy of flying a reality. The new author tells the story of how he managed to make his way into the Aviation world about twenty years ago and became a civilian flight instructor. He aspires to help people navigate past the potential obstacles to include how to save money on a new aviation adventure. 
Jeff Jorgenson's Book for Aspiring Aviators 
Open Air is a highly accessible read for anyone with an interest in aviation whether the interest is literal or historical. Woven into his aviation guide are entertaining accounts of inspiring young aviators, the history of flight, and new careers in the realm of aviation. Jorgenson takes his readers on a "walk-around" an airplane to help the reader become personally acquainted with this advancement in human science which was once deemed impossible. 
Jorgenson's tone is very different from a dry university professor explaining commonly known stories behind the power of flight. As an American veteran and a stay-at-home dad, Jorgenson has humor and humility setting him apart from other writers in his field. Readers may find after reading Jorgenson's book they were more interested in flying than they had previously believed! 
Author Jeff Jorgenson was recently nominated for the Aviation writer's award from the MN Aviation Hall of Fame.  
Jorgenson has been invited to various venues to include EAA Airventure Oshkosh to speak about his experience as a pilot to include his story of how he survived a plane crash and still managed to walk away from the crash site and pick up his daughter in the same afternoon.  
Open Air will unlock the path towards any level of flight from a passing interest in the history to solo flying a glider to starting a whole new career! He believes the future of aviation is in our hands and he has demystified the exclusive gatekeeper beliefs of what it takes to become a pilot. Jorgenson adds value to his readers by offering little-known aviation hacks from using drones to operate jets. 
Author Jeff Jorgenson hosts an aviation website where readers can explore his story for themselves at www.openairforeveryone.com. Jorgenson's new book, Open Air, is available in both e-reader and paperback format on Amazon.com. 
Click Here to Purchase Now and Start Learning How to Fly!
Source: Jeffrey Jorgenson
Share:
---
Categories: Books, Aviation, Training and Coaching
Tags: aviation book, civilian flight instructor, flight training, flying, flying career, pilot, plane crash survivor stories, training
---