New American History Curriculum Develops Imagery for Comprehension
Make history come alive for students!
Press Release
-
updated: May 31, 2018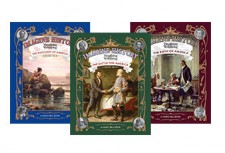 SAN LUIS OBISPO, Calif., May 31, 2018 (Newswire.com) - Gander Publishing has just released the third book in its Imagine History series, a new curriculum that introduces innovative methods for teaching history. First introduced to classrooms last fall, Imagine History is uniquely written to develop the imagery-language connection for American History in an effort to help elementary students better understand, comprehend and enjoy history. 
"Students often bemoan history classes because the content is boring and the curriculum involves memorizing irrelevant facts and dates," explained author and educator Nanci Bell. "They don't visualize the fascinating events and people that have shaped our world. By incorporating the imagery-language connection into the content, we can help make history come alive for these students!"
Imagine History features three books, written at a third- to fifth-grade level. Titles include: "The Discovery of America," "The Birth of America" and the just-released "The Battle for America." The fourth book in the series "Rebuilding America" will be released later this year. 
The series uses engaging and interactive methods that incorporate the steps from Bell's Visualizing and Verbalizing (V/V) for Language Comprehension and Thinking program. Throughout the series, Bell's methods help students visualize history, learn new vocabulary, expand critical thinking skills and develop true comprehension for important events, people and places. Vivid photos, fun facts and stories, and imagery-laced writing fill every page. The series satisfies most state and national standards for each grade level; books can be used in classrooms or at home as a primary teaching text or to supplement existing textbooks. 
An expert in the field of literacy, Bell was one of the first to recognize the critical role that imagery plays in reading and comprehension. For more than 30 years, her V/V program has been used as an effective intervention with struggling readers of all ages. The internationally acclaimed program has been at the center of numerous studies examining the role that imagery plays in changing the brain's functions related to language and literacy skills. The incredible gains from V/V have impressed researchers, teachers and parents alike.
Bell's concept for a curriculum that specifically develops the imagery/language interplay for history was born years ago. "Time and again, when I asked my students what they visualized for history, I was met with a blank stare. Not only did these students have difficulty visualizing and comprehending language, but they also had enormous information gaps. Many of those gaps were in history. I remember their faces. They weren't sure if the American Civil War was before or after the American Revolution, or if ancient Egyptian civilization came before or after the Civil War."
Imagine History and V/V provide a critical instructional piece missing for many students. To peek inside the new Imagine History books or to download a free chapter from each book, visit the Gander Publishing website, where the books are also available for purchase. 
About Nanci Bell: Nanci Bell is co-founder and director of Lindamood-Bell Learning Processes, an organization dedicated to enhancing learning for all people. A former elementary school teacher in California, Nanci is driven to help students of all ages and abilities learn to their potential. 
After receiving her Masters in Reading from Cal Poly San Luis Obispo in 1981, she became passionate about researching and developing programs to address reading, comprehension and math skills.
Along with her colleague and friend Patricia Lindamood, she expanded Lindamood-Bell from one small learning clinic to a renowned, worldwide education company.
In 1995, she developed Gander Publishing with the goal of producing innovative educational tools designed to transform instructional practice. An acclaimed author and speaker, Nanci has received numerous awards including the Professional Achievement Award from Smart Kids with Learning Disabilities in 2010 and the Distinguished Leader in Special Education Award from Education Update in 2013. 
Media Contact:
Tom Mendoza
phone: 1(800) 554-1819 
email: tom.mendoza@lindamoodbell.com 
Source: Gander Publishing
Share:
---
Categories: Education, Special Education
Tags: American History, Books, Comprehension, Curriculum, Education, Elementary School, Gander Publishing, History, History Curriculum, Social Studies, Special Education, Teaching
---