New Agency 'The Model Smith' Expands Talent Roster With Mullins and O'Connor
Press Release
-
updated: Mar 3, 2017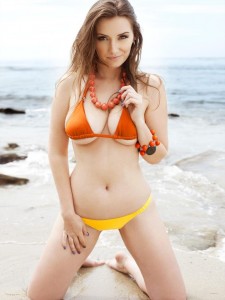 Los Angeles, CA, March 3, 2017 (Newswire.com) - Startup agency 'The Model Smith' has expanded its roster of emerging talents with the signings of models Rachel Mullins and Caitlin O'Connor.  Mullins has been featured in Playboy.com, Maxim.com and television's 'The League' and '@Midnight' as well the 'Entourage' movie. She is the longtime girlfriend of comedian and former Nickelodeon star Stephen Glickman. "Rachel isn't just the girl in a bikini on the pages of men's magazines, she is a producer, a business woman, she has the invincible hustle of a native Detroiter." explains Smith, also a native "Detroiter."
O'Connor is already a hugely successful brand ambassador who has leveraged her social media presence and experience as the first Arsenic girl and now, main interviewer for ArsenicTV into partnerships with leading brands.  O'Connor's success in using social media to create brand value was recently featured in Bloomberg Business Week. Having never been represented for Print modeling, O'Connor has potential to dominate a different market considering she has already done it herself on different mediums. "Meeting Caitlin (O'Connor) I was more than pleasantly surprised by her sophisticated presence. She's well spoken as predicted from her interview I had watched, but there are no airs. She is not just the model you see on Instagram, or just a host. This is a girl who knows her worth whether thats in Instagram engagement or as an actress and model" 
'The Model Smith' is named for founder Lauren Smith and her mission to reimagine how modeling talent is developed. In the way that a blacksmith forges metal into something strong and beautiful, Smith says she aims to work with a broad range of new talents that can each offer a unique personal brand and offer clients much more than a traditional pretty face.
Other represented talent includes actress and personality Janet Von, girlfriend of Drake Bell, star of Nickelodeon's Drake and Josh, Former Disney star and actress Oana Gregory, and rock n' roll offspring Jade Ealy who was born into rock n'roll with a dad who is a multi award winning lighting designer and stage manager, and a long-time boyfriend Kevin Thrasher of the band "Escape The Fate," all of these things attribute to the work they can do and they audience they can target for a brand or company.
"This is not a traditional agency, or even your now more common boutique agency. The women, and men we sign are people you would want to hang out with.  They are smart, interesting, can carry a conversation, and each is a model of what they choose to be. When someone walks into my office and knows who they are and how to represent themselves I want to work with them. If they don't but I see it then I want to help them figure it out. Pairing their personal brands with the companies, businesses that make undeniable sense and then creating something new and beneficial for everyone is the goal."
You can learn more about The Model Smith, at www.TheModelSmith.com, all social media @TheModelSmith. 
1055 W. 7th st 33rd fl/PH
Los Angeles, CA 
90017 
Source: The Model Smith, LLC
---
Categories: Agents and Representation
Tags: agency, arsenic, drake bell, entrepreneur, maxim, playboy, rachel mullins, stephen glickman, swimsuit, talent agency, the chive
---