New 811spotter Mobile Apps Put Construction Field Teams in Control of 811 Tickets
Press Release
•
Jun 29, 2023
Groundbreaking iOS and Android apps drive office-field collaboration and put mission-critical data and documentation capabilities at workers' fingertips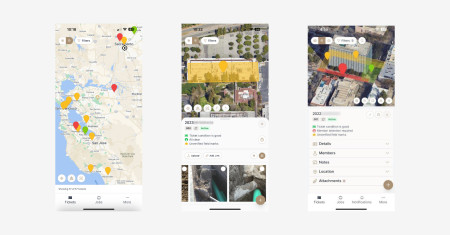 SACRAMENTO, Calif., June 29, 2023 (Newswire.com) - 811spotter, the construction tech pioneer behind the first multi-state, multi-call center 811 ticket management solution for contractors, today announced the General Availability (GA) release of its groundbreaking iOS and Android app. Designed by and for construction industry professionals, the 811spotter app gives construction field teams seamless access to mission-critical data and documentation capabilities via an intuitive map-based interface, enabling contractors to work safely and efficiently even in the most challenging environments.
"With 811spotter's mobile apps, our teams can get full ticket details and dig-site information, including the electronic white-line derived from the original ticket, to get all the site details they need," said Mark Benesi, Northern California Safety Manager at Malcolm Drilling. "That might sound simple, but it's something our guys in the field have never had before. All this stuff used to be buried in emails or stacks of paper — now they can just look at a map on their phone, and see exactly where they're supposed to be working."
Already trusted by dozens of U.S. construction contractors, the 811spotter platform streamlines the process of managing 811 tickets to help contractors manage excavation projects safely and avoid costly and dangerous damage to underground pipelines, cables, and other pre-existing infrastructure. Companies using 811spotter collectively save over 10,000 hours per month and over $200,000 in operational costs, while reducing total excavation-related damage claims by an average of 90%.
The 811spotter mobile app brings the same dependable ticketing information to field teams' tablets and smartphones via an innovative map interface that enables teams to easily track multiple tickets and jobs in a single convenient view. Purpose-built for commercial contractors and optimized for use in the field, the 811spotter app provides field teams with access to up-to-date job site details — from utility locations, to ticket status, to messages from the notification center or head office — while out in the field.
"Our customers tell us that communication between field teams and office-based 811 ticket managers is a major bottleneck — and a point of failure — for high-stakes excavation projects," said Marc Krichman, co-founder of 811spotter. "With our new mobile app, we're breaking down those barriers, and ensuring that all team members have the 360-degree visibility and reliable real-time data they need to get the job done."
Crucially, field teams can also collect supplementary data about utilities and other infrastructure while in the field, adding geotagged photos, notes, and location information to enhance information provided by the regional 811 center and elevate safety and productivity for future field teams working in the same area. The result is a context-aware ticket management system that gets smarter over time: unclear or inaccurate information only needs to be corrected once, with changes instantly updated across contractors' organizations and preserved to support future jobs.
"Our company specializes in underground wet utilities, and ticket information can be unclear — but the last thing you want is field teams improvising or guessing," said Adam Bettencourt, Area Manager at Mozingo Construction. "By crowdsourcing reliable real-world information about underground infrastructure, 811spotter's app is a game-changer for companies like ours — our field teams can share information fast, with automatic geotagging to reduce on-site delays and help us get the job done right every single time."
"When it comes to excavation, the stakes are high, and there's simply no margin for error," Krichman said. "At 811spotter, we're committed to helping field teams to work smarter, and giving them the data, resources, and connectivity they need to consistently weave best practices into their daily workflows."
811spotter is currently available in California and Nevada, with support for more states coming in the next few months. Contractors can access the mobile app now via the Apple App Store or the Google Play Store, or sign up for a free trial via 811spotter's website.
About 811spotter
Based in Sacramento, California, 811spotter is the construction tech pioneer behind the first multi-state, multi-call center 811 ticket management solution for contractors. Founded by a team of construction industry veterans, the company's groundbreaking SaaS platform gives both office supervisors and field teams instant access to real-time ticketing data and supplementary crowdsourced information. The result: more effective collaboration, increased productivity, and significantly reduced risks of damage to underground infrastructure. Companies using 811spotter collectively net over 10,000 hours per month in productivity gains and save over $200,000 in operational costs, while reducing total excavation-related damage claims by an average of 90%.
Find out more at https://811spotter.com.
Source: 811spotter
Related Media