Neurosurgery, Orthopaedics & Spine Specialists (NOSS) Expands Orthopedic Care in Southern Connecticut
Press Release
-
updated: Nov 1, 2017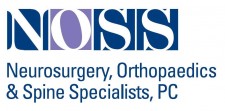 SHELTON, Conn., November 1, 2017 (Newswire.com) - Neurosurgery, Orthopaedics & Spine Specialists, PC (NOSS) announced today that fellowship-trained, board-certified, upper extremity specialists Andrew J. Nelson, MD and Richard L. Manzo, MD are now accepting patient appointments at the NOSS Shelton office, 330 Bridgeport Avenue, in addition to their primary office at 1320 West Main Street in Waterbury.
"We are excited about expanding our practice to provide care to patients along the Naugatuck River Valley and across lower Fairfield and New Haven counties," commented Dr. Manzo. "Since merging our Hand to Shoulder Center practice into NOSS, we have worked collaboratively with our NOSS colleagues to offer comprehensive orthopedic care to patients across more of the region."
NOSS Chief Operating Office William Godburn commented: "Drs. Nelson and Manzo are exceptionally fine surgeons, with extensive training and experience in treating painful conditions from fingertip to shoulder. Providing their focused expertise in orthopedic care in the NOSS Shelton office means more choice for patients across the region."
NOSS also provides neurosurgery and pain management services from its Shelton office. Other NOSS locations include Waterbury, Southbury, and Torrington.
NOSS is an integrated, multi-specialty medical practice offering diverse expertise and leading-edge capabilities to ensure optimal outcomes for patients. For more about orthopedic care and other healthcare services from NOSS, visit www.nossmd.com.
Press inquiries/contacts:
Joey Marie Robinson
Physician Liaison
NOSS 203-755-6677 x118
Source: Neurosurgery, Orthopaedics & Spine Specialists, PC (NOSS)
Share:
---
Categories: Healthcare, Injury, Healthcare and Medical News
Tags: broken arm, broken wrist, carpal tunnel, dislocated finger, hand surgeon, orthopedic surgeon, rotator cuff, shoulder pain, shoulder replacement, Southbury, tennis elbow, trigger finger
---