Network-her Conference - 2021
Press Release
•
Dec 7, 2021
Largest Global Conference for Female Founders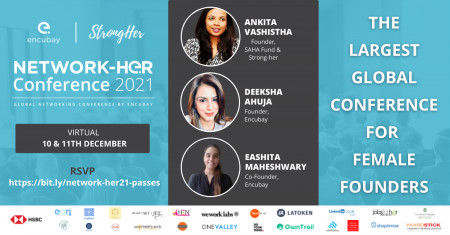 BENGALURU, India, December 7, 2021 (Newswire.com) - The Network-her 2021 is Encubay's global annual conference platform, co-hosted with StrongHer, without boundaries to foster learning experiences and gain a global peer network. Industry experts, investors, experienced entrepreneurs, growing businesses share their knowledge and experiences to ignite collaborative opportunities. Network-her 2020 was held in November 2020 (virtually), had 35+ experts, 500+ attendees from 17+ countries with 32+ hours of expert interaction.
Deeksha Ahuja and Eashita Maheshwary, Founders of Encubay, a diversity-focused network, conceptualized the Network-her conference to ensure more women start networking while getting access to knowledge and experiences from across the world. The second annual global conference is on 10th and 11th December 2021 and is co-hosted by Strongher Capital, founded by Ankita Vashistha and founder of Saha Fund. Bringing together experts from a diverse set of experiences, sectors, geographies and expertise with Deeksha, Eashita and Ankita themselves being invested in the sessions. Jyotsna Uttamchandani, Executive Director of Syska and SKK Group and Soumya Rajan, Founder & CEO of Waterfield Advisors are going to be the keynote speakers. Other prominent speakers include Anisha Patnaik, Founder - LexStart, Jayaroopa Jayabharathi, Co-founder - Women In Investing, Sonny Mohanty (Singapore) Regional Director - Latoken, Aarti Sinha, Director - MasterCard India Services, Aarti Gupta - DBR Ventures, National Head, FICCI FLO Startup, Neha Bagaria, Founder & CEO - JobsForHer, Vishakha Singh, VP - WazirX, Naiyya Saggi, Founder - Baby Chakra, Deep, Co-founder - PeeBuddy and more.
Eashita Maheshwary, says, "The conference has infinite opportunities to network, coupled with workshops, panel discussions, spot funding and more. Inviting entrepreneurs, investors, women in corporate, others who aspires to be an entrepreneur. The virtual conference will have speakers from across 10+ countries".
With 30+ community partners like WeWork Labs, T-hub, LinkedInLocal India, StrongHer Capital, Grover Impact Ventures (Dubai), Latoken (Singapore), Kerala Startup Mission, Womens Web, Run The World, HEN, The Hub Bengaluru, Freshworks, JobsForHer, Shoptimise and more on board, the conference aims to ensure reach to maximum entrepreneurs from across the globe.
Ankita Vashistha, shares, "Community and network is a powerful tool to enable meaningful partnerships and business success. Network-her is the leading platform for women entrepreneurs, investors and ecosystem enablers coming together to succeed."
The panels include topics like Women in Health/Fintech, Global Business Opportunities, Building a Global Community, Legal/Finance of Angel Investing, Relationship Capital, Creating Your Own Trail. There's also a Spot funding session "Pitch It 3.0" led by StrongHer and Encubay where early-to-growth stage companies get funded on the spot of up to 25,000 USD or 20 Lakh Rupees. This year the conference has 50+ speakers, expecting 500+ attendees.
Deeksha Ahuja, shares, "The Network-her Conference is born out of my selfish need to meet as many fellow entrepreneurs and now is turning out to be a meeting ground for so many female founders and investors!"
Get your passes on https://bit.ly/network-her21-passes. Passes include access to the conference, offer credits and benefits worth over Rs.3,50,000/-.
Source: StrongHer
Tags
Related Files