Netflix 'Weed the People' Trailblazer Tracy Ryan Launches Much Anticipated 'Saving Sophie' Podcast
Press Release
•
updated: Dec 4, 2019
Celebrities, world-leading Cancer specialists, & Doctors set to guest with podcast host effervescent thinker and devoted mother Tracy Ryan and her miraculous seven-year-old daughter, Sophie. The mother-daughter duo will share groundbreaking Cancer and cannabis healing revelations on star-studded informative podcast.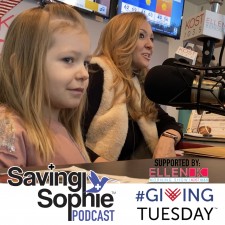 LOS ANGELES, December 4, 2019 (Newswire.com) - ​​​SavingSophie.Org has officially launched its informative much-anticipated podcast. The purpose and mission of the podcast, hosted by Tracy Ryan, (the CEO and founder of Cannakids, Saving Sophie, CKSoul cannabis and Hemp – and co-hosted by her seven-year-old daughter Sophie) is to generate support and critical awareness for the groundbreaking Medical research of renowned cancer expert Dr. Anahid Jewett. Tracy was introduced to Dr. Jewett through a mutually known nurse practitioner. This led to Tracy joining forces with Dr. Jewett to find a cure for cancer. Although their paths and approaches were different, their destination was the same, therefore, this was the path by which they embarked on their relentless journey together. This partnership has already made an undeniable impact on speeding the rate of discoveries in cancer research in order to help in extending the life of those inflicted with cancer.
Tracy has individually spent years tirelessly researching a cure to save the life of her beloved daughter Sophie, who, having battled a brain tumor is now miraculously living her first year without chemotherapy. Tracy is also launching and branding new healing products and a hemp collection.
Later this month, the results of Dr. Jewett's cancer changing research will be unveiled with the hopes of eventually changing the scientific approach to how cancer is treated and how we perceive cancer forever.
***The fight to eradicate cancer, through the effective support of our own Natural Killer cells, with the added strategies such as essential Cannabinoids - will be tested in hopes of bringing non-toxic cancer treatments for those suffering from Cancer globally.
The Saving Sophie podcast is set to raise the bar for medical insight and unique knowledge and provide direct access to healing aids and doctors, and provide updates on scientific breakthroughs as well as have celebrity guests stop by to share their own stories, experiences and battles.
About Sophie:
Sophie Isabella Ryan was born Oct. 3, 2012, perfectly healthy weighing in at 8 pounds, 7.4 ounces. When signs of nystagmus, shaking of the eyeball, presented in her left eye. She was given an MRI and at 8 1/2 months old, Sophie was diagnosed with a low-grade, Optic Pathway Glioma brain tumor, leaving devastated but determined pro-active parents.
Their Facebook page called "Prayers for Sophie" led to Ricki Lake and Abby Epstein, who were filming a documentary about how cannabis oils kill cancer in pediatric patients. The critically-acclaimed 'Weed The People' is currently on Netflix and follows their journey. Sophie today is an inspirational seven-year-old protected and guided by her fierce Mother, the duo will share their hopes and insights on their podcast.
Source: Saving Sophie
Additional Links