Nested Bean Inc. Makes Sleeping Babies Look Even More Adorable Than They Already Are
Press Release
•
Oct 19, 2016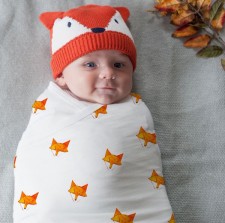 Hudson, MA, October 19, 2016 (Newswire.com) - Nested Bean Inc. has accomplished the impossible: they've made sleeping babies look even cuter… with help from their new collection of prints. This week, Nested Bean has released their patented sleep accessories, the Zen Swaddle and the Zen Sack in 8 stunning new prints.
Not only do these products improve sleep in 1 to 3 nights, they are also guaranteed to be the most darling-looking swaddle blanket or sleep sack you've ever seen.
What's more? The Premier line even has a new feel to match their new look. Now made with a cotton-bamboo fabric blend, Premier swaddles and sacks are available in five beautiful watercolor prints: Blushing Butterflies, Deepsea Diver, Friendly Fox, Lovestruck, and Starry Safari. 30% cotton, 70% bamboo, 100% adorable.
As always, the Classic versions are made with 100% cotton for extra comfort, but are now available in four new geometric prints: Puffin Party, Honey Bear, Bubble Chaser and Fishing Around, in addition to the original colors.
Nested Bean's Zen Sleep System mimics a mother's touch with lightly weighted pads on the chest and sides. This is a major win for parents who find their little ones won't sleep without having mom or dad's hand on their chest or backs or insist on being held. The Zen Sleep System is comprised of the only swaddle blanket and infant sleeping bag that harnesses the scientifically proven power of touch.
Using a combination of comfort, style, and science Nested Bean has taken their intuitive products to the next level. Wrap a baby in either the Zen Swaddle or the Zen Sack and they'll be sleeping better and looking cuter in no time. As proof, photos of the new line can be seen below. To view all our new prints and learn more about the Zen Sleep System and the science behind it, visit our website http://nestedbean.com.
Retailers will get a preview of these prints at the All Baby & Child Expo at Booth 5431. These prints will be available in stores by the end of October for parents and gift buyers to take home.
Source: Nested Bean Inc.
Related Media