Neoflam is Hosting a 21 Days of Christmas Event
Press Release
•
updated: Dec 13, 2016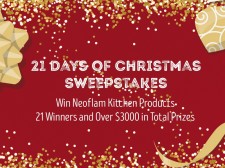 Irvine, CA, December 13, 2016 (Newswire.com) - Neoflam is wrapping up Q4 with a sales event called "21 Days of Christmas". The premium cookware company is using this as an opportunity to grow and connect with their budding audience across their social media profiles and family of sites.
During the event, Neoflam is giving away over $3,000 in kitchen products and offering special pricing on a wide range of items. The event runs until December 24th.
For fans of Neoflam products, the event comes just in time to stock up on their favorite kitchenware before the holidays. In addition to steep discounts, there are plenty of chances to win great prizes including:
Pareto Stone Stovetop Ceramic Cookware in Purple (12/12): $109.99
Cut2Tray Green (12/13): $34.99
Aveco Knife Set (12/14): $64.99
CLOC Glass 18-Piece Food Storage Set (12/15): $49.99
Carat 5-Piece Cookware Set (12/16): $199.99
MyPan 6-Piece Cookware Set (12/17): $149.99
Retro 5-Piece Cookware Set in Pink (12/18): $150.99
Retro 9-Piece Cookware Set in Gray (12/19): $387.95
Mystic Valley Stovetop Ceramic Cookware (12/20): $103.98
Midas Plus Cookware Set in Red (12/21): $139.99
Flutto Cutting Board Set (12/22): $50.69
Mystique Stovetop Ceramic Cookware (12/23): $74.99
$300 Gift Card to NeoflamShop (12/24)
About Neoflam:
Neoflam has been at the forefront of cookware design and manufacturing since 2008. The combination of durable, lightweight cast aluminum and colorful ceramic coating brought early success as customers looked for new ways to liven up their kitchen. In 2014, Neoflam built a new factory in Korea, in addition to existing factories in China, that borrowed the latest industrial technologies from the automobile industry. This was to ensure Neoflam remains on the cutting edge of kitchen innovation while continuing to provide quality, eco-friendly products to our loyal customers all over the world. Neoflam - lighting a "new flame" in the kitchenware industry.
Neoflam's leadership in product design has been recognized by the following prestigious design awards: iF (2012, 2016), Red Dot (2012, 2013, 2014, 2016), and Design Plus (2014).
For more information about Neoflam and their products, please visit:
www.neoflam.com
www.neoflamshop.com
www.neoflamblog.com​
www.facebook.com/neoflamamericas
@neoflamamericas​
Email: community@neoflam.us
Phone: 1 (866) 344-4435
Address: 9591 Irvine Center Dr., Irvine, CA, 92618
Source: Neoflam
Related Media
Additional Links